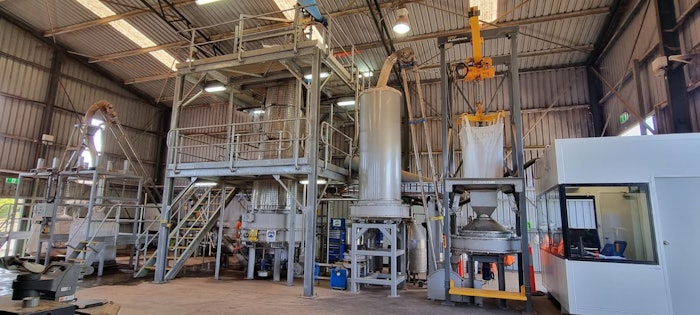 C/O QUINTIS
Quintis Sandalwood announces the launch of a commercial Continuous Steam Distillation plant designed to meet the growing demand for oil in a more sustainable way, a change to antiquated distillation processes was needed.
The AUD $700,000 plant recently opened at the company's 60,000-square-mile distillation facility in Albany, Western Australia.
The patented, fully automated process is inspired by continuous in-feed and out-feed systems commonly used in papermaking, allowing Quintis Sandalwood to produce greater volumes of oil at greater speeds.
According to a release, Quintis had previously processed the oil in batches using the traditional method of steam distillation, a process that was uneconomical for the larger volumes and would increase its energy requirements and emissions as throughput increased.
In the Continuous Steam Distillation process, a conveyor system transports chips into the top of the unit where the distillation process starts. The chips are continuously fed, enabling the technology to be 100% efficient with steam use due to the counter-current flow of steam versus wood through the system.
The Continuous Steam Distillation production line, which is partly funded by the Western Australian Government's Value Add Investment Grants program, is the first in a series of projects that aim to improve the efficiency and sustainability of Quintis' sandalwood oil production.    
Quintis Sandalwood CEO Richard Henfrey said, "This new technology enables us to produce four times more oil with the same volume of steam, reducing the company's water and energy requirements by 75%.
A-grade sandalwood oil now takes two days to distill instead of nine days, reducing the company's carbon footprint per kilogram of oil produced. The reduced retention time has also improved the oil quality, with the shorter time in the cooling pot reducing the likelihood of off-notes developing and highlighting the woody, creamy notes sandalwood is renowned for."