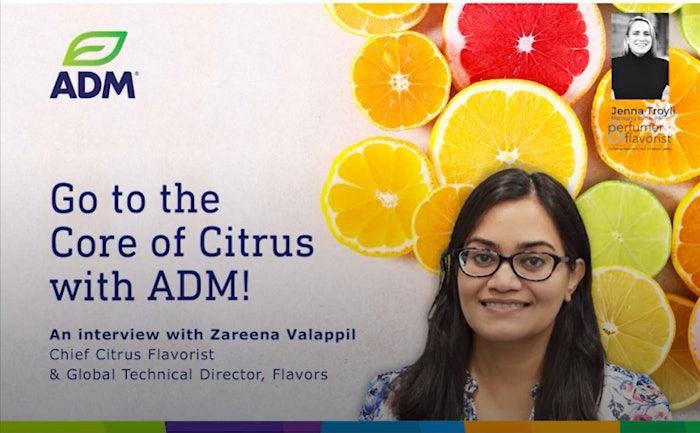 This video is sponsored by:
ADM
The citrus industry continues to face a wide variety of challenges. ADM's Chief Citrus Flavorist and Global Technical Director Zareena Valappil connects with Managing Editor Jenna Troyli to discuss the intricacies of the citrus industry, evolving solutions and programs to overcome these obstacles and the nuances of sustainability and labeling. Valappil also walks listeners through ADM's latest report on consumer preferences for citrus.
Register to tune in!
Zareena Valappil 
As an enthusiast for citrus and taste, it makes perfect sense that Zareena Valappil is ADM's Chief Citrus Flavorist and a Global Technical Director for the Flavors business unit. In her role, Valappil is driving technical strategy and flavor creation in the Citrus and Taste Modulation platforms to lead global teams in helping customers shape their citrus tastes. Valappil comes from a deep background of industry experience with over 20 years in flavor research and development, creating flavors for industry players such as Takasago and Symrise. She received her Doctorate in Food Science from the University of Florida and is a member of the Society of Flavor Chemists. Valappil loves to travel, trying local cuisines and has recently taken a fancy to Finger Lime due to its whimsical flavor and caviar-like appearance.