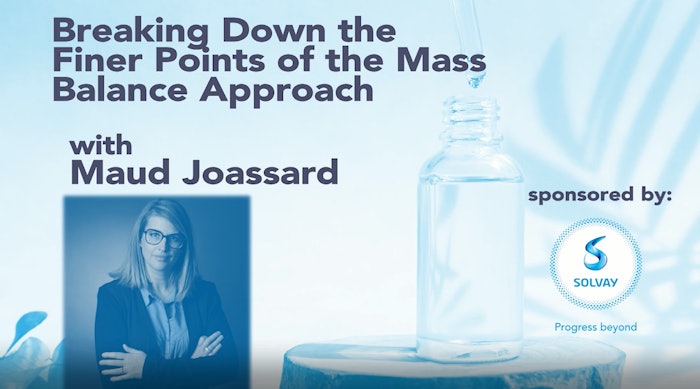 This video is sponsored by:
Solvay SA
In January 2023, Solvay debuted the first International Sustainability and Carbon Certification (ISCC) PLUS Certified mass balance vanillin. The mass balance concept according to the ISCC PLUS principles has become a globally acknowledged industry standard that provides a defined set of rules for tracking and tracing the content of circular and renewable feedstock in materials and end products. 
Perfumer & Flavorist+ managing editor Jenna Rimensnyder is joined by Solvay Aroma Performance, Naturals Marketing manager, Maud Joassard to discuss how mass balance differs from other sourcing methods, what it means for an ingredient to be mass balance certified and advantages for companies utilizing mass balance ingredients in their formulations. Register below to tune in.
Maud Joassard
Maud Joassard is the Naturals Marketing manager for Solvay's Aroma Performance GBU, specifically in charge of Solvay's innovative projects with a focus on natural vanillin and renewable carbon solutions (like mass balance) to support challenges faced by the F&F and food markets. 
Holding a Marketing MBA from Grenoble Business School (France), she began her career with Solvay (ex Rhodia) in Polyamide & Engineering plastics markets. For the past 12 years, Joassard has held numerous and varied marketing and project management roles focused on F&F markets, driven by her customer-oriented culture.