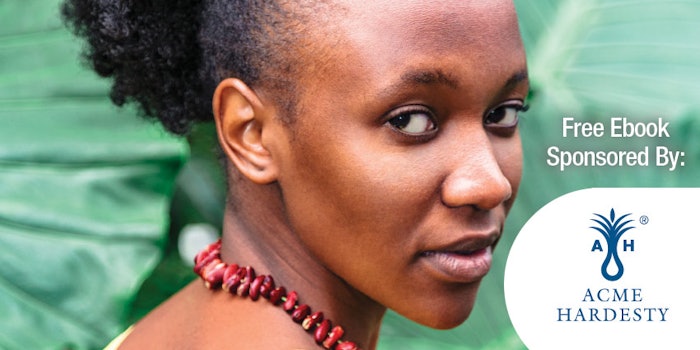 Growing interest from consumers in sustainably sourced, bio-derived natural products led us to the ebook you see before you.
Sponsored by Acme-Hardesty, the free Bio-derived and Sustainable Ebook is a collection of articles, ingredients and formulas to help you gain a footing in this growing market space. Sustainability in cosmetics is a multi-dimensional issue, so here we provide articles on a broad range of topics relevant to this segment. These include:
The rising interest in natural products, and how this has shifted toward those that are organic and sustainable;
A beginner's guide to formulating natural and organic products; and
A look at natural and sustainable formulating for hair care.
In addition, the ingredient directory features products pulled from our free Cosmetics & Toiletries Bench Reference (CBR) online directory that are denoted by their suppliers as natural, bio-based, bio-derived, sustainable, eco-friendly, fair trade, COSMOS/Ecocert, botanical, vegan and/or of plant/botanical, mineral and fermented origin.
Finally, bio-derived and sustainable formula prototypes are provided by Acme-Hardesty and its principals: Citróleo, Cosun Biobased Products and Sharon Labs. These range from an Anhydrous Liquid Soap and Moldable Cleansing Shower Dough, to a Conditioning Body Balm, 2-in-1 Conditioner and Color Protectant, Soft Touch Lotion, Ecocert/COSMOS Facial Cream, Purifying Calming Dead Sea Mud Mask and others.
We hope this free resource inspires you to find your own angle on sustainable and bio-derived product development. Download and get formulating today.