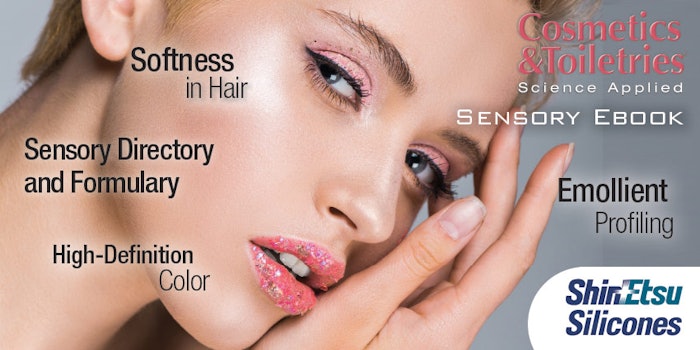 Sensory cues are crucial deliverables from cosmetic products. Not only do they deliver on a promise to users of the product's quality and efficacy, but as research shows, they can ignite the senses and stir biochemical processes that have measurable effects on the consumer's mental, emotional and physical being.
As such, this free Sensory Ebook was developed with the support of Shin-Etsu Silicones to give product developers a resource for creating sensory effects in skin, hair, color, sun and other product categories. Here, we highlight articles on emollient profiling for skin care; silicones to soften hair; and high-definition color cosmetics.
In addition, the ingredient directory highlights select sensory-related ingredients from our free online directory, the Cosmetics & Toiletries Bench Reference. Finally, sensorially-optimized formula prototypes are provided for your consideration.
We hope this free Sensory Ebook delivers on its own promise to take your product development efforts to exciting new levels. Download it today!