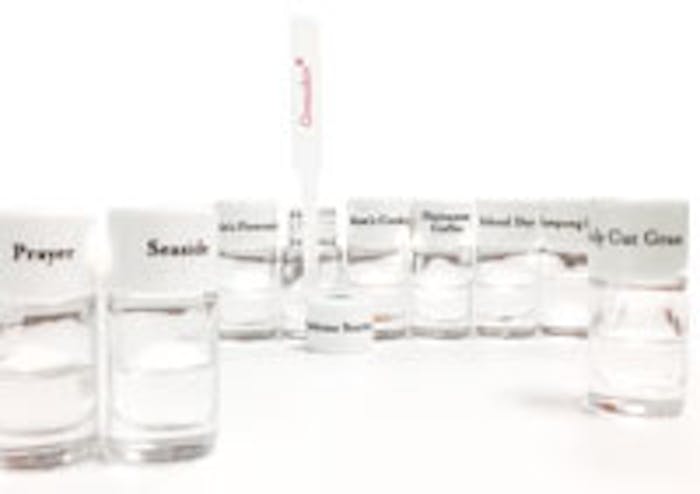 Givaudan has partnered with communications marketing agency JWT Singapore to create bespoke "Smell a Memory" kits that harness the power of scent to evoke emotional memories among Alzheimer's and dementia patients.
Givaudan perfumers Anne-Sylvie Selezneff and Hee-Soon Oh selected the ingredients and created fragrance accords to evoke memories of times past, places and foods that are culturally important in Singapore. Givaudan, which launched the program in select nursing and care facilities in Singapore, plans to extend program to other regions. 
The kits are personalized and custom created for individual patients based on each patient's family history, ethnicity, age and personal stories. Givaudan's perfumers, in consultation with therapists and rehabilitation experts, tailor made smells such as "Bedtime Stories", "Mom's Cooking", "Prayer", "School Days" and more to provoke engagement through experiential smells.
Alzheimer's and memory loss caused by dementia affect 35.6 million people worldwide.
"We wanted the smells in the kits to have a narrative quality. The idea was to evoke emotional memories not just factual ones. Scents that could open the floodgates to a story or a certain time in their lives and all the feelings associated with that memory," said Juhi Kali, JWT Singapore's Executive Creative Director.  
Working with medical staff at Soo's Nursing Home and another care facility in Singapore, the team tested the power of scent in therapy sessions. The "Smell a Memory" kits, with scents such as the seaside, fish curry and Hainanese coffee, were said to be a powerful tool, sparking memories in some patients, and stimulating strong emotions in others. While regular aromas have been used to uplift moods, Givaudan said this is perhaps the first time complex fragrance blends have been created for remedial purposes.
"We are really breaking new ground here," said David Boyd, global fragrance director of Givaudan Singapore. "This is a practical, hands-on, usable tool. We were very happy to use our perfumery knowledge to work with JWT on this project. The response to 'Smell a Memory' has just been outstanding. We are all fragrance enthusiasts here – but even we have been overwhelmed by the reactions of both the patients we worked with and their carers. "
JWT and Givaudan Singapore are in the process of organizing further trials at two of Singapore's largest hospitals. The company said the Singapore project has been so successful that Givaudan plans to extend the program to other regions.