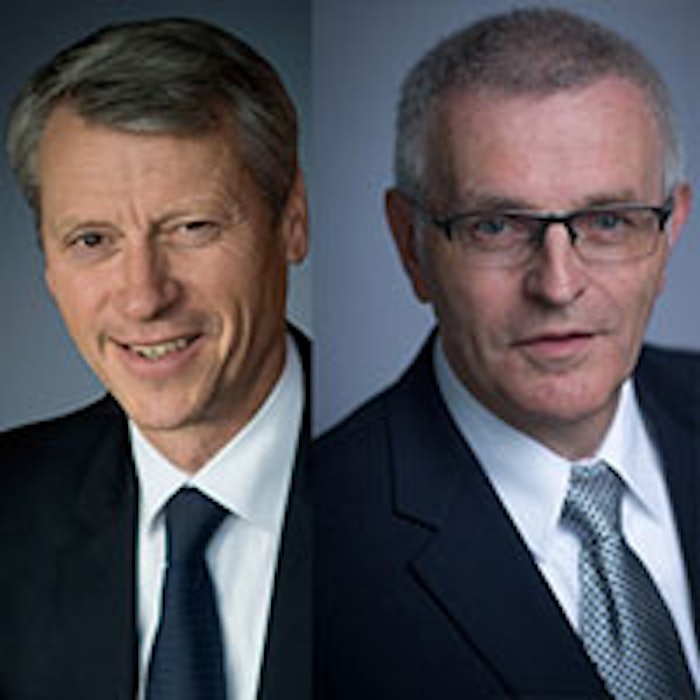 Givaudan has recently appointed Willem Mutsaerts (left) Chris Thoen (right) to its executive committee effective immediately. Thoen and Mustsaerts will be bringing their global commerce background in innovation and procurement, respectively. Gilles Andrier, CEO, Givaudan commented that bringing these two divisions into the company's 2020 strategy "reflects our strong commitment to offering superior and sustainable solutions by providing customers with breakthrough innovations and the best palette of ingredients, sourced in a responsible way."
In his new role, Chris Thoen will create the company's future innovation plans and expand the partnership networks for both flavor and fragrance. As head of science and technology for flavors, Thoen has been with Givaudan since 2011. Prior to his position, he held R&D positions with P&G, where he invented a significant portion of patents for the company. Thoen's educational background is from the University of Antwerp in Belgium where he holds a master's degree in chemistry and a Ph.D. in biochemistry.
As an executive member, Willem Mutsaerts will be responsible for global procurement. His position entails developing resourceful sourcing strategies to further enhance Givaudan's responsible sourcing initiatives, such as biotransformation and securing raw materials for long-term production. Beginning his career with Givaudan in 1989, Mutsaerts' role developed into global fragrance purchasing until 2007 where he became head of global operations in fragrances. Mutsaerts holds an international marketing degree from the University of Breda in the Netherlands and an MBA from Golden Gate University in Singapore.