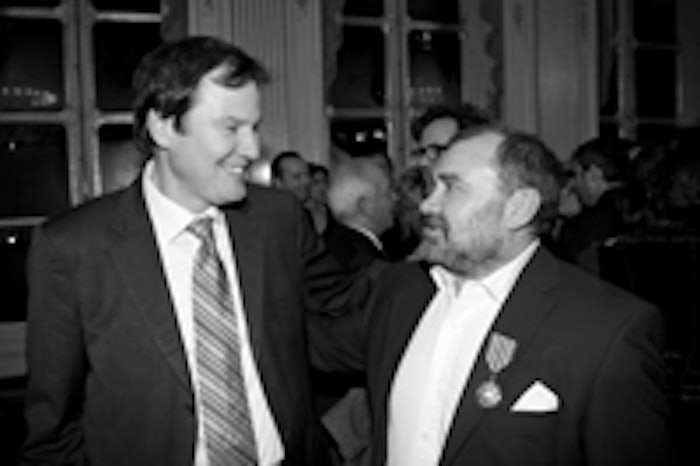 Symrise master perfumers Maurice Roucel has been named a Chevalier de l'Ordre des Arts et des Lettres, or a Knight of the Order of Arts and Literature. The Order of Arts and Literature is a prestigious French award that recognizes significant contributions to these fields or the advancement of them. French Minister of Culture and Communication Frédéric Mitterrand hosted an ceremony where the awardees, including Roucel, were presented with their medallions.
"We chose Maurice Roucel to receive the order because we were deeply impressed by his olfactory creativity over the last four decades. During this time, he has developed his own way of creating remarkable scents by combining his unique inspiration and profound knowledge," commented Mitterrand.
A member of the fragrance industry for 40 years, Roucel has worked for many renowned fragranced manufacturers of fragrances, and has been creating signature scents for Symrise since 1996. Among his most successful creations are Be Delicious by Donna Karan, Insolence and l' Instant by Guerlain, 24 Faubourg by Hermès, L by Lolita, L'Onde Mystère by Armani, Hypnose by Lancôme, Kenzo Air, Pleasures Intense by Estée Lauder, and many more.
Of the achievement, Roucel said, "I feel very proud to have been made part of the order for my work as a perfumer. It's always a challenge to find a way to express your individualism and at the same time meet the expectations of your customer and to give the consumer what they desire."
And Symrise CEO Heinz-Jürgen Bertram added, "It is a great honor for Symrise that such a gifted perfumer as Maurice works with us. He inspires us all to challenge ourselves every day. With his support, we hope to create many more captivating fragrances that make the lives of people more pleasant."