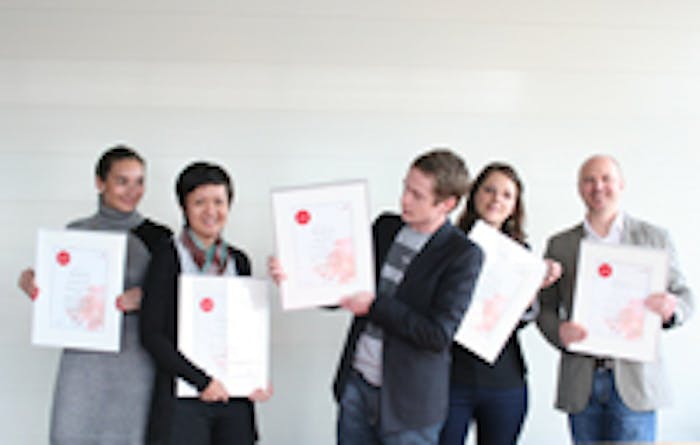 Following a four-year training program at the Symrise Perfumery School and a presentation of their work that they dedicated to various applications, Alexandra Carlin and Jerry Padoly from Paris, Lena Quay from Singapore, Isaac Sinclair from Sao Paulo, Marcus Betzer from Holzminden and Nathalie Ananou from Teterboro all received their perfumery certificates.
Achim Daub, Symrise's president of scent and care, noted, "We are very proud to award this certificate to six young people who deeply immersed themselves into the world of Symrise and its scents. We need young talents such as you to further develop our expertise and manifest our position among the leading fragrance houses. We are looking forward to working with you and are curious for the results to come."
Each of these new perfumers, who will continue to work for Symrise in various regions of the world, were tasked with creating an application illustrating the theme "regain control – it's my life," interpreting the topic with their own style and creativity, and the resulting applications included fine fragrances and boosting accords, detergents with a twist of tangerine, shampoos, shower gels, lip balms with exotic fruits, and many more. The perfumers then had to present their creation and demonstrate that they were able to explain and defend all aspects of their formula it in front of a critical audience, which included the examination board of three master perfumers, two senior perfumers and several representatives from Symrise scent and care top management. The jury put great emphasis on the creativity, the individual style and the ability to formulate using Symrise raw materials.
"I want to become the best perfumer in Asia," Quay commented. "I have started my career with Symrise and feel very passionate about it. I treasure the loyalty of my colleagues and the support I receive from all the other perfumers helping me to find my way. I've always had a strong liking for scents and it makes me proud if I can show my family and friends one of my own creations."
Beatrice Favre-Bulle, senior vice president of fragrance creation for home and personal care, Symrise, added, "For us, it is very important to train our own perfumers. Therefore, we are starting with a new course right now, in May 2011. The head of our perfumery school, Marc vom Ende, senior perfumer, will guide the prospective perfumers throughout their education. They will start by acquiring knowledge of raw materials, bases and basic accords, and then learn to understand fine fragrances archetypes together with increasingly complex accords. To build proficiency in home and personal care fragrances as well as in applied perfumery also belongs to their schedule. After two years, they will start participating in projects and develop an individual creative style. A period of study abroad completes the perfumery school program, with the purpose of giving exposure to a different culture as well as deepening other markets and consumer understanding."