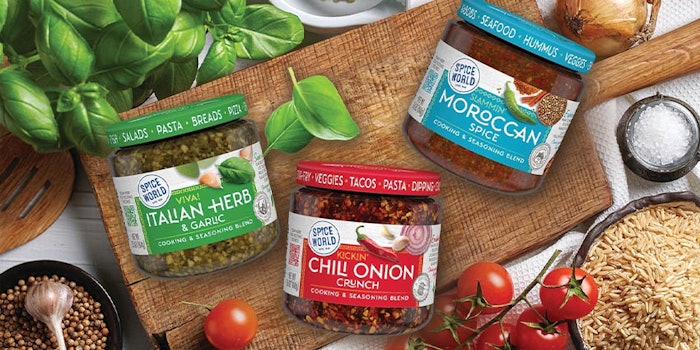 Spice World has unveiled a new line of global inspired cooking and seasoning blends, called Global Flavors, that adds international flair to home cooked dishes.
Related: Maison Sybarite Wins Best Fragrance Refinery29 Beauty Innovator Awards
The new Global Flavors cooking and seasoning blends include:
Sizzlin' Fire Roasted Fajita
Kickin' Chili Onion Crunch
Aloha! Habanero Pineapple Mango
Viva! Italian Herb & Garlic
Slammin' Moroccan Spice
The release follows the company being named to Nielsen's Top 100 Fastest Growing Emerging Brands.
Spice World CEO Chris Kiser said, "Consumers today are searching for bolder and more flavorful foods from around the world, and they seek to bring new flavorings into cooking at home. People love exploring ethnic foods, so they're looking for ways to create those experiences at home. Spice World's Global Flavors, is the easiest way for them to enjoy the flavors they crave at home. Just one spoonful turns an ordinary meal into an international flavor adventure."