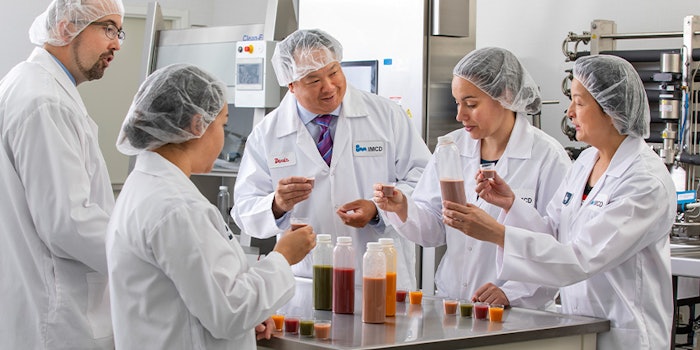 IMCD's North America team has unveiled its enhanced Food and Nutrition Technical Center in Brampton, Ontario, Canada.
Related: Scentium Opens Production Center in Tunisia
The IMCD Food and Nutrition Technical Center has expanded with two new application laboratories featuring an ultra-high temperature (UHT) pasteurization pilot plant, plus confectionery and nutrition capabilities to support North American customers' product development experience.
The center helps customers with application support, troubleshooting, trend insights and facilitating the development of complex ingredient formulations.
It includes the Bakery and Savory Lab and the Analytical Lab as well as the following two new laboratories:
UHT Pilot Lab, which offers UHT pasteurization pilot capabilities that can be configured to customer specifications and processing requirements. IMCD can reproduce industrial processes on a small scale for customers' new product formulations in a broad range of applications including beverages, savory products, dairy and dairy alternatives.

Sweets and Nutrition Lab, which develops confectionery and nutritious prototypes to support customers in crafting indulgent foods that balance flavor, texture and sweetness profile. Applications include a variety of confectionery and nutritional items, jams and jellies.
Devin Chan, Americas vice president, IMCD Food and Nutrition said, "The expansion of the IMCD Food and Nutrition Technical Center is a testament of our company's commitment to support our customer and supplier partners in their quest to drive marketplace innovation. In our continual pursuit to enhance our capabilities, IMCD experts have created a platform that offers food and nutrition manufacturers a reliable technical resource to help accelerate their product development process."
Mary Lim, Americas technical director, IMCD Food and Nutrition said, "From troubleshooting to producing innovative concepts that aid food scientists jumpstart their own product development process, we continuously aim to enhance our capabilities to inspire innovation, keep abreast on trends and help meet the consumers' daily needs. Complementing IMCD's technical sales force, our team is eager to support customers in expanding their business and formulatory concepts."