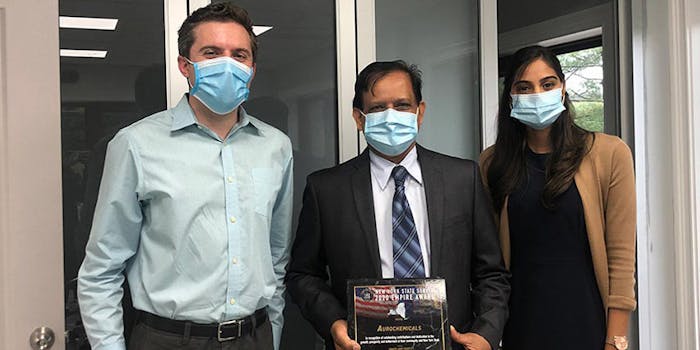 Senator James Skoufis (D-Hudson Valley) has presented Deo Persaud, vice president and CEO of Aurochemicals, with the Senate's Empire Award, the highest honor in the State Senate for small businesses.
Related: Aurochemicals Earns Safe Quality Food Institute's "Excellent" Rating
The Empire Award is reserved for businesses and business owners who have used their work to positively impact their communities by giving back.
Persaud and his wife Indranie Persaud founded Aurochemicals, which is now a production and research company specializing in flavored and fragrance ingredients.
Throughout the pandemic, Aurochemicals and the Persauds have regularly donated food to local pantries as well as given monetary donations to food pantries and residents in need.
Last year, they also donated $10,000 to the Country Kids Food Pantry in Washingtonville, New York.
Senator Skoufis said, "I've had the pleasure of knowing the Persauds for some time now and I know just how much their dedication to the local community has helped many families in our district. I was honored to present Deo and other members of Aurochemicals' hard-working staff with this award, which is a small representation of the many lives they have helped."
Aurochemicals CEO Deo Persaud said, "We are honored to receive The Empire Award from Senator Skoufis. Our goal of providing exceptional quality and service to our customers goes hand-in-hand with our goal of giving back to the community we are proud to be a part of, and this recognition represents our continued commitment to both."