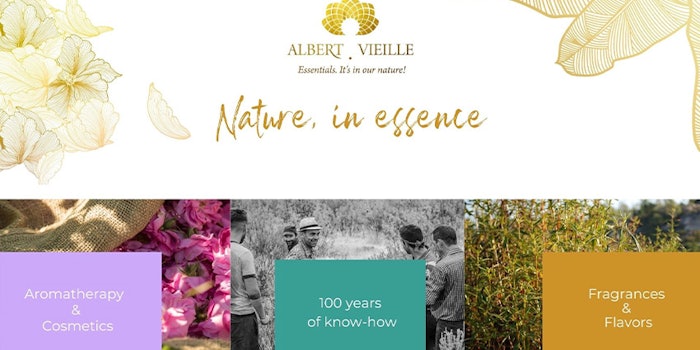 Albert Vieille has launched its new website. 
Related: Albert Vieille Announces New Company Manager: Arnaud Brondel
Through the "Albert Vieille" category on the website, there is a list of key dates beginning when the company was founded 100 years ago, through to when it was acquired in 2019. The section also contains the company's internal structure and international sales force. 
The "Commitment" category highlights the company's charter, actions carried out by quality control, as well as policies and ethics of the company
The two new sections on the site focus on the company's distillation, extraction, sourcing and R&D for aromatic raw materials. 
Albert Vieille's catalog has also been redesigned to better guide both fragrance and aromas and aromatherapy and cosmetics professionals through two main menus and numerous filters. 
As for the professional log-in area, it has been redesigned to give visitors the option to make quotation requests and download documents.