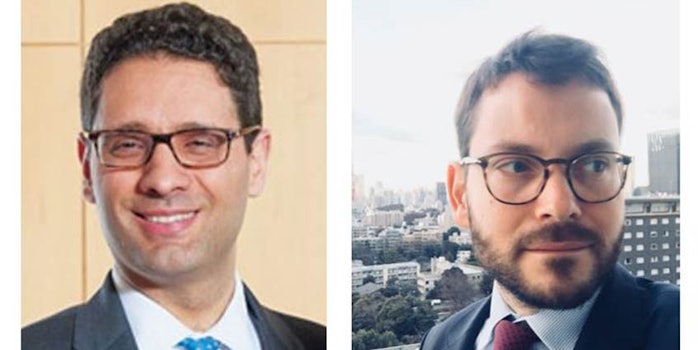 Firmenich has appointed Marios Broustas as senior vice president, corporate strategy and mergers/acquisitions (M&A), with immediate effect. Further to the group's corporate bond issue, Diego Chantrain was appointed to the newly-created role of head of investor relations. Both Broustas and Chantrain will report to COO and CFO Eric Nicolas.
Related: Firmenich Appoints Boet Brinkgreve as President of Ingredients
Working in close collaboration with Firmenich's business divisions in perfumery, ingredients and flavors, Broustas is responsible for strategic planning and M&A worldwide. He has played a central role in the successful execution of the group's growth strategy, including its largest ever acquisition, DRT, as well as its first ever corporate bond issuance.
Broustas succeeds Jean-Philippe Lebudel, who takes over as chief supply chain officer. Prior to joining Firmenich in 2016, he held roles of increasing responsibility at Goldman Sachs, culminating in managing director, investment banking.
In his newly-created role, Chantrain will lead investors relations, responsible for ensuring the group is strategically positioned amongst investment analysts, while managing all communications between investors and Firmenich management.
Since joining Firmenich in 2016, Chantrain has been a member of the strategy and M&A team, with a particular focus on Asia. He was previously responsible for M&A at Japan Tobacco International and has also spent three years as a senior analyst at McKinsey & Company.
"[Broustas'] deep financial expertise has been instrumental in our 12 acquisitions over the past four years," Firmenich CEO Gilbert Ghostine said. "He will continue playing a critical role in helping shape our transformational growth plans. With his outstanding track record, I am confident he will continue leveraging his network, build new connections and expand our footprint."
Ghostine continued: "I am delighted to appoint [Chantrain] as our first ever head of investor relations following our historic and successful bond issuance. Providing best-in-class service, he will ensure that we are a reliable and trusted partner for our investors."