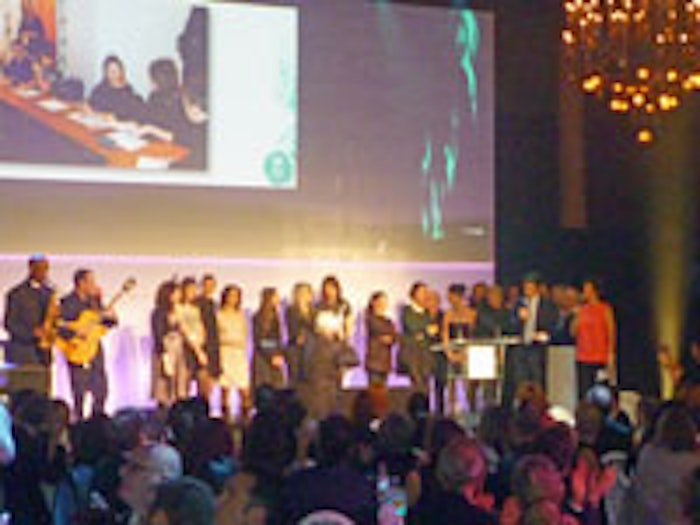 At the event hosted by Sabine Chabbert, associate director of the Fragrance Foundation France, and Thomas Misrachi, BFM TV journalist, nine perfumes and one brand were awarded with 14 prizes on April 11.
All fragrances in the categories selective distribution and broad distribution were evaluated by a jury consisting of perfume professionals, members of the Fragrance Foundation and other experts (consultants, journalists and bloggers). The public also had the opportunity to cast their votes on the Internet.
Among the 14 prizes, which honored the creativity and innovation of the perfume industry, four prizes went to La Petite Robe Noire by Guerlain and two to Spicebomb by Viktor & Rolf in the selective distribution category.
At the end of the evening, the audience, consisting of professionals and the media, determined a winner in the category "Prix du Parfum Mythique." This category includes perfumes that were released at least 20 years ago and still are among the top 30 fragrances sold in France. The Prix du Parfum Mythique 2013 winner in this category was Shalimar by Guerlain, which emerged from 15 nominated historical fragrances as the winner.
Just like Elie Saab Le Parfum (BPI) in 2012, one perfume in women's fragrance this year won all prizes (woman's fragrance of the year, best advertising communication and best design) in the women's fragrance selective distribution category: La Petite Robe Noire by Guerlain (LVMH), created by Thierry Wasser from Guerlain. The agency Küntzel + Deygas created the TV commercial which featured music from Nancy Sinatra. La Petite Robe Noire by Guerlain won with 21.4% of all expert votes and 26% of the audience votes. In particular, it garnered 43% of all votes in the advertising communication category, and received 17.2% of votes for best design for its classic looking bottle with modern elements.
"This fragrance prevailed clearly among the jury and the audience," said Chabbert.
Best women's fragrance in broad distribution was VIP pour Elle by Playboy (Coty Beauty) from IFF. As the best women's fragrance marketed under its own name, So Elixir Purple by Yves Rocher, created by Marie Salamagne (Firmenich) received a prize. Spicebomb by Viktor & Rolf (L'Oréal Luxe), designed by Olivier Polge from IFF, received two prizes: one for best men's fragrance and one for best design. Only The Brave Tattoo by Diesel (L'Oréal Luxe), created by Honorine Blanc and Alberto Morillas from Firmenich, won the audience award with 13% of the votes.
Best advertising communication was Kenzo Homme Sport by Kenzo (LVMH). Best perfume in broad distribution was The Essence by David Beckham (Coty Beauty) from IFF. Best men's fragrance, marketed under its own name, was L'Eau Universelle of L'Occitane: a collaboration with the perfume creator Mathieu Nardin from Robertet. Best perfume in selective distribution was Volutes by Diptyque. The tobacco-honey-scent was inspired by a long journey between Marseille and Saigon of one of the creators of Diptyque and was composed by Fabrice Pellegrin, perfume creator from Firmenich.
The brand Olfactive Studio received the prize for best concept.