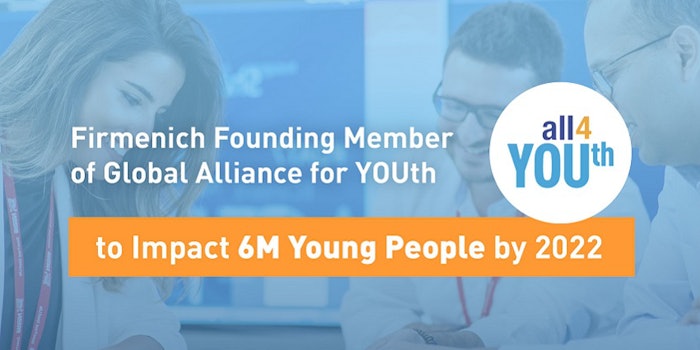 Firmenich has announced the launch of the Global Alliance for Youth, an alliance of 20 like-minded companies committed to helping 6 million young people develop employable job skills.
With the purpose of preparing young people for the professional world, Nestlé founded the Alliance for Youth in Europe in 2014. Now, with the help of 20 multinational companies; including Microsoft, Mastercard, Publicis, SAP and Firmenich, the alliance is taking the mission global. According to The World Economic Forum, over 60% of children entering primary school will have jobs in the future that don't exist yet, while the World Bank estimates that 60% of the world's population remains excluded from the digital economy. The alliance hopes to address these issues and others impacting young people.
Related: When it Comes to Gender Parity, Firmenich Has the EDGE
To date, Firmenich has successfully provided more than 1,200 jobs, apprenticeships and training opportunities for young people. Additionally, the company has helped more than 3,200 young people through its "Ready for Work" activities, which include CV clinics and career forums.
"Together with the other founding members, we want to empower the next generation to become the leaders of tomorrow and successful entrepreneurs in our companies regardless of their field or level of expertise," said Gilbert Ghostine, CEO Firmenich. "Building on the 1,200 jobs, apprenticeships and training opportunities we created as part of the European Alliance for Youth, we look forward to continuing to strengthen the employability of young people on a global scale."