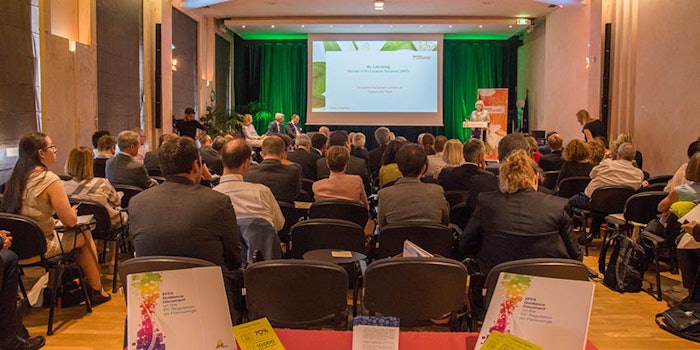 The European Flavour Association (EFFA) held its Grasse FlavourDay, themed to sustainability.  
More than 80 people gathered in Grasse to discuss sustainability-related topics, including the ways policy makers' actions are shaping companies' operational frameworks, the commitment and contribution of the flavor industry, and what consumers want and understand when it comes to the evolving term, 'sustainability.'
"We chose Grasse as [the] location for our sustainability FlavourDay with a clear purpose: For many years, many of the best loved tastes have come from here," said EFFA president Antoine Kastler. "You can almost feel the legacy being transmitted from generation to generation."
The conference kicked off with an update on the European Union's sustainability initiatives. Julie Girling, member of the European Parliament, presented the organization's actions in the field, acknowledging the role of sustainability in the flavor industry.
Related: Q&A: EU's Regulation Progression with Alexander Mohr
"The flavor industry is one of the industries with a longstanding commitment to sustainability; think about the connection with the soil, the connection with the tradition," said Girling. "Everyone has an interest in making sure that the industry thrives, and you cannot do that if you are not prepared to put in place sustainability actions."
Kęstutis Sadauskas, director of circular growth and green growth at the European Commission's Directorate General for Environment provided insights via video. He explained how the Grasse FlavourDay offers an opportunity to share current initiatives, and reflected on the key role of sustainability in the economy. He noted: "We cannot do without sustainability. Not only for environmental reasons, but also because it brings economic benefits."
Sven Ballschmiede, executive director of the International Organization of the Flavor Industry (IOFI), presented the preliminary structure of the organization's joint initiative with the International Fragrance Association (IFRA), the aptly titled "Flavour and Fragrance Sustainability Initiative."
The topic of the day was food trends, including consumer's choice in the context of sustainability. Lu Ann Williams, co-founder and director of innovation at Innova Insight Markets, discussed a variety of concepts that consumers associate with the term.
During the FlavourDay ateliers and cocktails, attendees explored the ways sustainability can be translated into food applications, such as syrups made with locally-sourced flowers (in cocktails or ready to take home for cooking).
"The Grasse FlavourDay continued a tradition of its own," said Alexander Mohr, EFFA executive director. "The speakers provided inspiring insights and the ateliers again proved to be a huge success, and they allowed participants to discover 'in practice' what sustainability means for the flavor industry."
The next FlavourDays will be held Nov. 8, 2018 in Berlin and Nov. 22, 2018 in Paris.