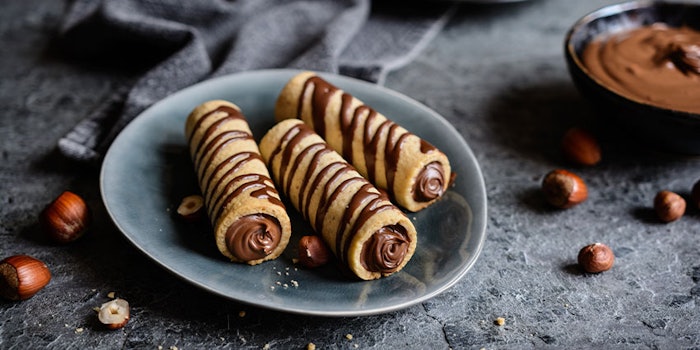 3,3,5-Trimethylcyclohexyl acetate (AKA: homomenthyl acetate)
Source: Bedoukian
FEMA# 4512, CAS# 67859-96-5
Not yet found in nature.
Odor: @ 100%. Slightly floral, slightly green, softly cooling, anisic with an underlying black pepper note.
Taste: @ 10 ppm. Herbal, minty and slightly spicy.
Taste: @ 20 ppm. Green, spicy, herbal and slightly floral.
Possible applications: This ester has softly spicy and minty qualities which can be used to compliment clove, cinnamon, peppermint and spearmint flavors. It certainly won't be the star of the show, but it will lend a tempering depth to these types of flavors.
Bedoukian: bedoukian.com
2-Methyltetrahydrofuran-3-one, natural (AKA: coffee furanone)
Source: Advanced Biotech
FEMA# 3373, CAS# 3188-00-9, natural
Natural occurrence: Coffee, cocoa, tobacco, pumpkin, beef, chicken and hazelnuts.
Odor: @ 100%. Solventlike, brown and slightly pyrazinelike with a whiskey endnote.
Taste: @ 25 ppm.Nutty, brown, caramellic and alcoholic.
Taste: @ 50 ppm. Brown and rummy with a hint of hazelnut.
Possible applications: Brown flavors are the obvious choices for this material's use including coffee, caramel, bread crust, butterscotch, toffee, mocha, dulce de leche and vanilla. Other areas where it will add to the casky character are in brown liquor flavors like bourbon, rum and whiskey.
Advanced Biotech: www.adv-bio.com