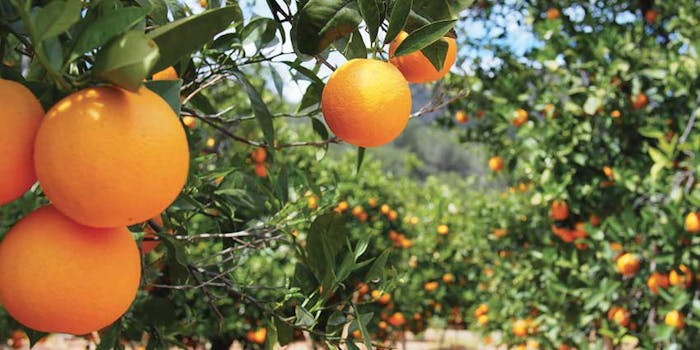 Robertet
Grasse, France
2016 total sales: €468.0 million/$492 million
Estimated market share: 2.1%
Phillippe Maubert, Chairman and Global President
Perfumer & Flavorist: What has Robertet achieved this year to maintain/raise your position on the leaderboard?
The Robertet Group had a very strong performance in 2016 with global turnover of e468 million, a 7.6% increase on top of excellent results in 2015. We attribute our admirable growth to our unwavering focus on our five year strategy, which is built upon strong consumer insights and close alignment with our client's needs around the globe. We understand and anticipate changes in the market and proactively work to help our clients win in today's hyper competitive market.
Our key point of difference in the industry is our market leadership and expertise in natural raw materials, which we leverage extensively in both our flavor and fragrance divisions. Robertet is in a unique position to win because the consumer is acutely interested today in naturals, transparency and sustainability, and we have been living this lifestyle for five generations.
Robertet has been the source of natural ingredients for the flavor, fragrance and cosmetic industries for over 200 years. Our expertise ranges from the origin—the seed, the leaves and the flowers—to our manufacturing competence that is continually reinvented: extraction, hydro-distillation, molecular distillation and super critical CO2 extraction. Thoroughly examined and expertly dissected, our raw materials reveal the marvels of the living world.
P&F: M&A activity is showing the acquisition of smaller companies, typically ones that provide specific capabilities, as a means of expansion. In your opinion, what does this say about the current F&F landscape?
Achieving strong growth in mature markets is often difficult in today's ever changing environment. At Robertet we have a very strong core business in natural raw materials and are always looking to grow our portfolio of natural ingredient source locations and superior technologies to efficiently and sustainably process those materials. For example, we added Bulgaria as a new source for rose and lavender and acquired Hitex in Brittany, France for CO2 extraction technology.
By expanding into complimentary categories such as active beauty and wellness, we can achieve a new path of growth by providing our clients with more than just fragrances or flavors. Our clients continue to seek out innovation, improved technologies and updated claims from the F&F suppliers. As a result, we continue to expand our capabilities and grow stronger, reaching outside our primary competencies to offer plug and play solutions for our customers around the globe.
In response to this market trend, we established a new division within the Robertet Group in 2014 called "Health and Beauty." The goal of this division is to extend our expertise in the field of natural ingredients by going beyond the olfactory and gustatory properties of natural raw materials to uncover their health and wellness benefits. This new division is based in France and the USA and includes an impressive portfolio of active wellness solutions for multiple applications including food supplements, functional food and beverage, personal care, facial skin care and pet care.
We have recently completed the acquisition of BIONOV, a world leading specialist and producer of natural SuperOxide Dismutase (SOD). This investment expands our health and beauty division portfolio in the health ingredient market with SOD Bp, a natural ingredient coming from a specific melon variety with multiple health benefits validated by clinical studies. The acquisition of BIONOV also expands our expertise in biosciences and encapsulation technology with a highly skilled R&D team.
P&F: How do you see shifting consumer trends among millennials and younger generations impacting the future of F&F?
Over the past few years we have focused our consumer insight teams on tracking and understanding the habits of millennials around the world. This generation does almost everything differently than previous generations. They shop, parent, eat, exercise, practice spirituality and work differently and they expect more from the products that they use. So unsurprisingly, they even have different scent and taste preferences than other generations.
One of the biggest millennial trends we have identified is 360-degree health and wellness. Younger consumers take a holistic and proactive approach to health maintenance and they are driving the trend toward transparency in all categories including fragrance and flavors. Millennials and Gen Z are highly educated about products, they do their research online before they make a purchase and they want to know exactly what is in the products they are consuming. We forecast that fragrances with limited ingredients or "simple" ingredients that consumers recognize and understand will resonate and succeed in the years to come.
In fine fragrance, niche and artisanal fragrances continue to be a key area of strength for the group. We have consistently demonstrated leadership in this area with many wins in highly sought after niche brands. Millennials are seeking these brands because they want to be perceived as an individual with unique tastes, and they don't identify with the idea of a signature scent. They want to experiment with many different types of fragrances and they enjoy a sense of discovery as they look for their next scent experience. Niche brands are leading the trends in fine fragrance, and that is trickling down to complimentary categories such as personal care and air care.
In addition to the global focus on naturals, in flavors we continue to watch as millennials redefine the trends cycle. With technology immediately allowing innovators to share ideas and creations from their phones, trends that would have previously emerged over the course of a few years now reach a global audience of consumers in seconds. This has helped the palates of younger demographics continue to expand, driving innovation – however, it also presents challenges for the industry, in that flavor trends are being burned through at a much faster pace. Millennial interest in niche trends, and the authenticity niche brands offer, is now the norm across many categories. Leading brands are being forced to adapt, and shorten new product development timelines.
Flavor complexity remains as a key macro trend, piquing the interest of millennials seeking unique, new, food and beverage experiences. But, we are beginning to see a counter-trend toward simplicity emerge, as premiumization continues to drive consumers toward the highest quality products and ingredients. Millennials consider products to only be as good as their weakest component, and want to know that they are choosing the best for themselves, and their families.
Robertet's 160+ years of experience working with naturals, focus on innovation, and strategic agility positions us perfectly to partner with clients, and help them navigate these changes in Flavors, which are sure to continue in the coming years.
P&F: Given the current political climate around the globe with last year's Brexit in the UK and the election of Donald Trump in the US, do you foresee any major changes in industry regulations?
Our industry certainly has its challenges in the future not only with the two specific events that you note, but others as well. We look to the strength of our global industry trade associations together with 'sister' associations in allied trades to consider all aspects of proposed legislative changes and to aid in giving the governments proper direction to keep our industry thriving. We will continue to participate at all levels of these associations as part of Robertet's commitment to the industry.
P&F: What is Robertet's biggest success this year?
First, we are very proud of our global sales growth year on year in a hyper-competitive market as it represents the intensive efforts of our employees around the world. We know that our employees are our greatest asset and we are winning because of our work.
But sales growth is only one part of our recent achievements. In September 2016, Phillipe Maubert, CEO of Robertet was honored with the 2016 "Prix de l'Audace Créatrice" by former French President François Hollande. This award distinguishes the accomplishments of French executives who have grown their company in both results and profitability while also creating new jobs in France. Philippe Maubert represents the 4th generation of our family-run company and we are proud to be recognized by the French government.
P&F: What regions are of interest to Robertet and why?
At Robertet we are careful to ensure that our well established business in the mature markets throughout North America and Europe are growing year on year. To do this, we are continually fine tuning our business model and expanding our capabilities. We are always looking for new and better ways to service our clients in an increasingly more challenging marketplace.
Two of our key growth areas include the Middle East and Asia. The Asian market for fragrance and flavors is expected to grow from $7 billion in 2013 to $8.5 billion in 2018. In response to these market trends, we have recently opened a new facility in Singapore and expanded our facility in China to include a state of the art R&D innovation center.
We are continuing to invest in emerging markets as they represent the fastest growing areas in all our businesses including our health and beauty division.
P&F: What do you predict as key drivers of F&F within the next year?
We have been carefully tracking consumer patterns globally and we have identified three key trends that are driving the fragrance and flavor market today and will be in the years to come. Overall consumers are actively seeking new experiences. Millennials prefer to spend their money on adventure travel or exotic dinners over buying a big home or a lot of possessions. And every day the world is getting a little bit smaller thanks to the hyper-connected social and digital realm that we all occupy.
#Pleaseme: The pleasure trend explores into the ongoing appeal of gourmand scents and flavors, and how the market is evolving to include new facets inspired by world foods with interesting call outs like salt, bitters, smoky, mineral or boozy notes.
#CleanLiving: With the renewed focus on health and wellness, we have seen a lot of fragrance and flavor products with benefits to help energize or calm, to help pre or post workout, or even to help you sleep. In this trend there is a huge focus on natural botanicals, aromatherapy, super foods, traditional medicine and ancient ingredients, source stories, limited ingredients and clean labels.
#EntertainMe: We are on the cusp of an entertainment revolution with augmented reality and virtual reality. We see a huge opportunity for fragrance and flavor to deliver sensory delight and to add to these new, fully immersive technologies. From deconstructed scents and flavors, to exotic new textures, to cool and hot sensory experiences from scent and taste, we are anticipating the exciting future with this trend.
P&F: The F&F industry's impact on consumers' daily lives is humble, palpable and more transparent than ever. How is Robertet adjusting to a more communicative and transparent F&F chain?
We believe that consumers will continue to demand transparency in our supply chain, beginning with the source story behind each natural raw material we supply worldwide to the finished fragrance and flavor found in their favorite products. As a result, Robertet remains committed to our groundbreaking Seed to Scentq technology.
We are always searching for innovative new sources for our naturals, and work in close collaboration with pioneering agricultural stakeholders who share our values. For example, we have developed a major partnership with Indulleida, a fruit cooperative in Spain with 14,000 farmers. Their expertise in fruit farming and our technical know-how are combined to create superior products. Our unique ability to extract and isolate products and to make good use of by-products, is constantly growing. Together we are developing products for both fragrance and flavor application that are exceptional. We showcased an assortment of our fruit ingredients at the 2016 World Perfumery Congress in Miami, and we plan to expand the portfolio going forward.
P&F: The biotechnology industry has been growing in popularity within the industry. How do you see this industry working parallel with F&F?
Robertet has been on the leading edge of biotechnology in F&F with our on-going development partnership with the Boston-based Ginkgo Bioworks. The partnership between Ginkgo Bioworks and Robertet has been an early driver of innovation in cultured ingredients, focusing on products such as rose oil ingredients and a family of lactone ingredients.
In May 2017, Ginkgo Bioworks and Robertet USA announced a successful commercial-scale fermentation of a key flavor and fragrance ingredient. Robertet is thrilled to be working with Ginkgo on the next generation of flavor and fragrance ingredients and are proud to have reached this milestone in commercial scale fermentation. We look forward to developing innovative cultured ingredients in the future and consider this sector to be a growth engine for Robertet.
P&F: What are Robertet's goals for the next year? How do you plan on achieving them?
Our strategic plans reach well beyond the year ahead and into 2022. In our flavors and fragrance divisions, we are focused on driving organic growth in key developing markets where we are currently underpenetrated. To fuel that growth, we are making significant investments in our Grasse, France headquarters (e40 million by 2019) as well as abroad. Our new health and beauty division and the recent acquisitions of both Hitex and Bionov round out the growth portfolio. These investments demonstrate our vision to see the fourth and newest division of our group reach significant scale over the next few years.