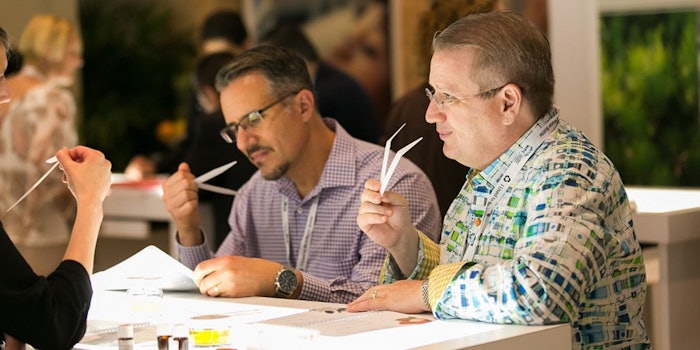 The World Perfumery Congress is returning this summer (June 29-July 1, 2022)! Have you gotten your early-bird ticket yet to hear industry experts discuss the industry's latest issues and breakthroughs?
Take a peek at the sessions for Day 1:
"Perfumery in 2030: How Technology and Regulatory Changes will Impact the Perfumer's Role" with Procter & Gamble's Phil Porter
"Exploring Post-Pandemic Opportunities in Fragrance" with Euromonitor International's Kayla Villena
"Bridging the Gap Between Anosmia and Perfumery with Synesthetic Language" with Mane's Ugo Charron and anosmie.org's Emmanuelle Dancourt
"Part 1: Formulating with Woods" with Berje Inc's Michelle Bruckmann
"Part 2: Formulating with Woods" with Quintis Sandalwood's Pierre Bénard
"Elevating Purpose-Led Brand Experience via Fragrance" with Reckitt's Pamela Asplund
"The Future of Fragrance Creation" with Symrise AG's Dirk Braun
"How Global Regulatory Trends Impact Fragrance" with IFRA - The International Fragrance Association's Martina Bianchini, David O'Leary and Hans Holger Gliewe
"Innovating with Purpose" with Givaudan's Jeremy Compton
"Curators' PoV on Fragrance Development" with Mark Knitowski
Stay tuned for Day 2 and Day 3 to be announced!
Secure Your Seat
Early bird rates are now available for the three-day conference for $1,850. Attendees can also snag tickets for chosen days of the conference, as well as grab a ticket for the Fragrance Reunion Celebration on June 30. 
There is also a perfumer rate discount** for the three-day conference package ($1,250), more details can be found on the registration page.
** Qualified Perfumers is defined as trained perfumers working within the fragrance industry who are recognized as a perfumer (trainee, evaluator, etc) by an accredited perfumery society such as the ASP, SFP, BSP, etc. The WPC will vet qualifying applicants requesting the perfumer discount rate through these association partnering organizations. This discount only applies to perfumers who register for the three-day event. No perfumer discount applies to one or two-day event registration.
Want to know everything going on in flavor & fragrance? Sign up for P&F+'s newsletter. You can also follow along on Instagram and LinkedIn.