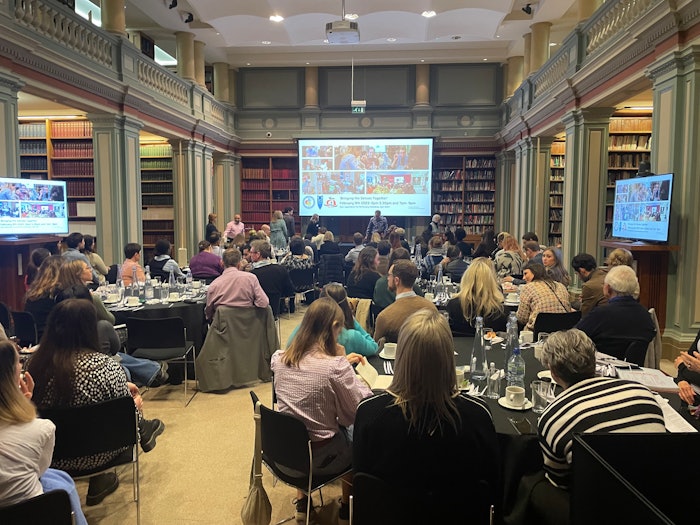 Jenna Rimensnyder
On the morning of February 9, 2023, I hopped on the Eurostar train and headed to London from Paris to attend the Bringing the Senses Together event jointly hosted by the British Society of Flavourists (BSF), British Society of Perfumers (BSP) and Society of Cosmetic Scientists (SCS). This was the first time all three of the organizations hosted an event together.
The day began with a perfumery workshop followed by a networking session before the conference sessions began. It was here that I was pleasantly surprised to run into Omega Ingredients' CEO Steven Pearce (who was equally recognizable even though he was not sporting his Mad Hatter cap), World Perfumer Congress 2022 speaker and 4160Tuesdays founder Sarah McCartney and former Perfumer & Flavorist+ (P&F+) advisory board member and fragrance specialist Virginie Daniau. I was also able to meet BSF council member and head of Flavor Development at Austria Juice Group, Ján Peťka, Ph.D., in person as well as his fellow council member Aidan Kirkwood (pictured below). I was also reunited with P&F+ "Flavor Bites" columnist and independent flavorist John Wright. Wright is set to play a special role at the upcoming Flavorcon 2023, stay tuned!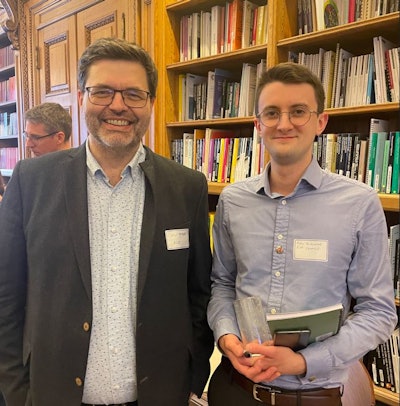 Here is a recap of the afternoon's discussions. Marianne Martin of BSP and Mohammed Jamal of SCS welcomed guests before introducing CPL Aromas perfumer Jean-Charles Mignon to discuss fragrance creation, by walking attendees through a typical assignment for a perfumer, the collaboration between departments and the role of chemistry. Mignon first covered the importance of olfactive families and their uses before explaining company's headspace technique, thermal desorption technology which was explained to work like so:
The perfumer puts the glass dome on a sample we would like to analyze
A pump draws air into a thermal desorption tube
Aroma molecules are trapped and concentrated on a porous polymer in a tube
Thermal desorber heats the tube to release the aroma molecules for GC-MS analysis
One of the most recent applications is Penhaligon's fragrance Around the Highgrove Gardens by CPL Aromas creative perfumer Julie Pluchet.
Next up was Firmenich senior perfumer Christian Bickel presenting the "Green Processes for Sustainable Perfumery Ingredients." Bickel gave an overview of white biotechnology and how the technique is utilized to harness cellular and biomolecular processes to develop technologies and products. Attendees were also armed with the knowledge of Firmenich's Firgood extraction process. Bickel was adamant that while these ingredients made from these processes are not to be marketed as replacers, they are, however, cost-effective, and supply reliable substitutes. 
Givaudan Fragrance Technology manager Julia Brooks discussed "Fragrance & Well-being, Sensory Perception," taking a look at how the emotional impact of a fragrance and/or fragrance ingredients can be measured. Brooks also discussed the current thinking on the science of perception. The speaker explained that emotions are important for brands to tap into because they effectively serve as a cueing system to alert us to pay attention. Ninety-two percent of people are more likely to stay loyal to a brand when there is a positive emotional connection. Brooks also discussed the nuances of fMRI brain imaging when smelling occurs. She explained the advantages of this technology are that it is able to observe activity in brain areas associated with odor processing and different levels of activity can be observed between relaxing and invigorating fragrances. The disadvantages include that testing is time-consuming and takes on a clinical approach (far from the consumer experience). The testing is also difficult to differentiate between highly pleasant odors within the same emotion association.  
Daniau took the podium to discuss innovations in fragrances exploring launches that illustrated mood enhancement, sustainability, encapsulation and the incorporation of artificial intelligence. Each example was partnered with a sample of the scent, keeping noses busy throughout the presentation before Daniau announced the winners of the BSP Fine Fragrance Awards, where all winners were projected onto the monitor to accept their award with either a recorded video or live to discuss the inspiration behind the creation.
BSP Fine Fragrance Awards Winners
All Genders 2022
Polo Earth, Ralph Lauren by Firmenich perfumer Elise Benat
Top notes are neroli, petitgrain, citron, bergamot, spicy mint and green mandarin; the middle notes are orange blossom, ylang-ylang, rose, sage, lavender and geranium; the base notes are cedar, Haitian vetiver and musk.
Best Masculine 2022
Gentleman EDP Reserve Privee, Givenchy, by Firmenich master perfumer Olivier Cresp and co-collaborator Firmenich master perfumer Nathalie Lorson
Top note is bergamot; the middle notes are iris and chestnut; the base notes are whiskey, woodsy notes and amber.
Best Feminine 2022
Nomade Naturelle, Chloe by IFF perfumer Caroline Dumur 
Top notes are dates and Mirabelle plum; the heart notes are Egyptian jasmine and freesia; the background notes vanilla, sandalwood and oak moss.
Thank you to the BSP, BSF and SCS for hosting P&F+ at the Bringing the Senses Together event. Meeting new faces within the industry, and discussing innovative technology and formulation techniques has inspired me to explore these avenues in upcoming issues and events. Stay tuned!