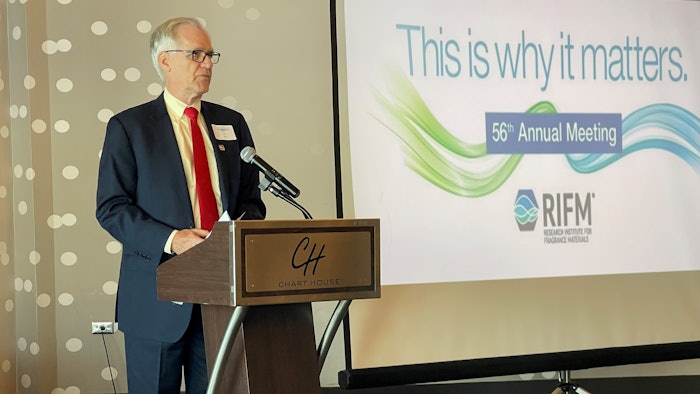 C/O RIGM
The Research Institute for Fragrance Materials (RIFM) met in person for its 2022 Annual Meeting for the first time since 2019.
Danielle Botelho, Ph.D., RIFM safety assessment manager, stated, "RIFM's scientists more than doubled the number of peer-reviewed and published fragrance ingredient safety assessments since our last in-person Annual Meeting. The more than 1,750 discrete materials for which RIFM has completed safety evaluations represent 80% of the total volume in current use, and we expect to have the full palette in the peer-reviewed literature by 2024."
RIFM vice president, Anne Marie Api, Ph.D., shared, "I am incredibly proud of the unprecedented progress RIFM's scientists have made refining our understanding of fragrance safety. Their work continues to positively impact the present and future of human health, the environment, and the industry."
RIFM president, James C. Romine, Ph.D., emphasized, "RIFM's critical safety science work—from its cutting-edge animal-alternative methodologies to its leadership in developing the science to understand the impact of Natural Complex Substance materials—relies on collaboration. That is why we designed this year's gathering to spotlight the collaborative science moving us all forward."  
Highlights from the 2022 Annual Meeting include: 
During the Business Meeting portion of the event, RIFM members voted to confirm the 2022 Board of Directors, welcoming Robert Weinstein, Ph.D., CEO of Robertet USA, as the institute's new chair.
Outgoing RIFM chair Shawn Blythe, chief transformation officer of International Flavors and Fragrances (IFF), noted, "It has been truly inspiring to oversee this organization through one of its most challenging yet productive periods. The fragrance industry continues to maintain its commitment to ensuring the safety of fragrance ingredients. As a founding member, IFF is extremely proud of our work with RIFM over the past 56 years."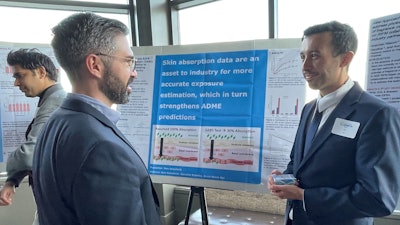 Romine presented two awards, highlighting individuals whose commitments to collaboration have significantly moved the science supporting fragrance safety forward.
First, he presented the RIFM President's Award to Mary Mircovich, RIFM's scientific literature coordinator. Mircovich has worked at RIFM for more than three decades, evaluating and managing database activities for the RIFM Database Group and serving as RIFM liaison to the International Fragrance Association (IFRA) Natural Chemical Substances Task Force.
The second award was presented to Ben Smith, Ph.D., who received the RIFM Board of Directors Excellence in Fragrance Safety Science Award. Smith serves as director for the Singapore Future Ready Food Safety Hub (FRESH) and the A*STAR Innovations in Food & Chemical Safety (IFCS) Program. 
Robert Bedoukian, Ph.D., president of Bedoukian Research, stepped down from the RIFM Board after 33 years of service. During his speech, Bedoukian highlighted the increasing importance of collaboration and the industry's $1 billion collective investment in the science supporting risk-based fragrance safety.
The Science Poster Hall spotlighted nine critical published papers and manuscripts in progress, including work to support the environmental endpoint in safety assessments for Natural Complex Substance (NCS) materials, and a new report showing that there are no known respiratory sensitizers among the ingredients used to fragrance consumer products.
Want to know everything going on in flavor & fragrance? Sign up for P&F+'s newsletter. You can also follow along on Instagram and LinkedIn.