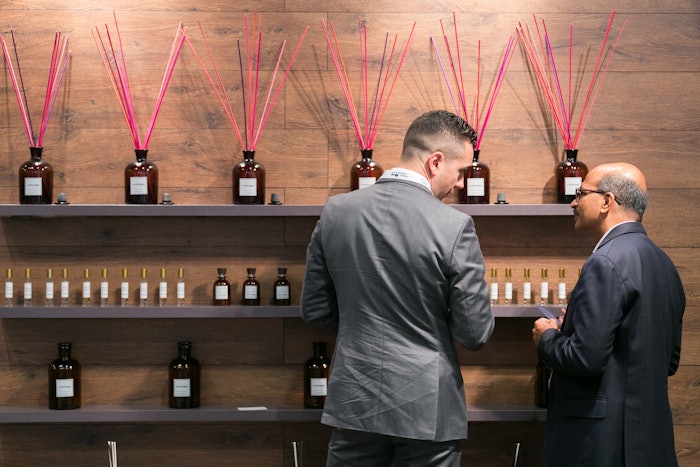 The final day of World Perfumery Congress (WPC) is underway. Scheduled for June 29-July 1, WPC 2022 is set to host back-to-back sessions during the three-day conference in Miami, FL. Don't have your ticket yet? Don't worry, there's still time to register for one, two or all three days of the conference.
>>>There is still time to register.<<<
Perfumers, industry experts and fragrance companies breaking boundaries will share gems from their vast experiences in the industry. You won't want to miss the extensive lineup of exhibitors showcasing the latest innovations and products.
Related: Look Who's Coming to World Perfumery Congress 2022 … So Far
Here is the exciting speaker lineup for WPC Day 2:
Thursday, July 1
• "Reclaiming Femininity: The Role of Women in Reshaping an Industry" with vice president perfumer, Adriana Medina (Givaudan), and vice president of Merchandising, Beauty and Accessories, Kristen Lagoa (Victoria's Secret).
• "The Science Behind Naturals: Consumer Benefits of the Future" with R&D director, Bernard Blerot (LMR Naturals by IFF).
• "What Can We Learn From the Indies?" with 4160 Tuesdays Ltd. perfumer, Sarah McCartney.
• "The Future of Perfumery from a Perfumer's Perspective" with International Society of Perfumer-Creators co-presidents and fragrance greats, Calice Becker and Francis Kurkdjian.
• "Fragrance's Sustainable Future Panel" with seven panelists including:
• Theodore Anastasiou, Ph.D., vice president, Research and Development (P2 Science, Inc.)
• Guillaume Audy, sustainability director (Iberchem)
• Nathalie Benareau, fine fragrance perfumer (Symrise)
• Valery Claude, vice president of Creation Design and Innovation (International Flavors & Fragrances)
• Julien Firmenich, vice president, Product Strategy & Promotion (Firmenich)
• Cyril Gallardo, Ingredients director (Mane)
• Koenraad Vanhessche, Ph.D., head of R&D (ACS International)
• "Fresh Faces in Fragrance Panel" with panel moderator Linda Levy, president of The Fragrance Foundation (TFF), with a line-up of four panelists including:
• Chris Collins, founder (World of Chris Collins)
• Keta Burke-Williams, co-founder (Aspen Apothecary)
• Bernardo Möller, creative director and founder (House of Bo-)
• Itika Oldwine Grimble, founder (OldVine Fragrance)
• "Diversity Discussion: How to Implement Change in Fragrance" with founder, nose and creative director, Miriam Vareldzis (Palette Naturals by 40notes, LLC), and founder, Yosh Han (YOSH olfactory sense).
Visit www.worldperfumerycongress.com to learn more and register.