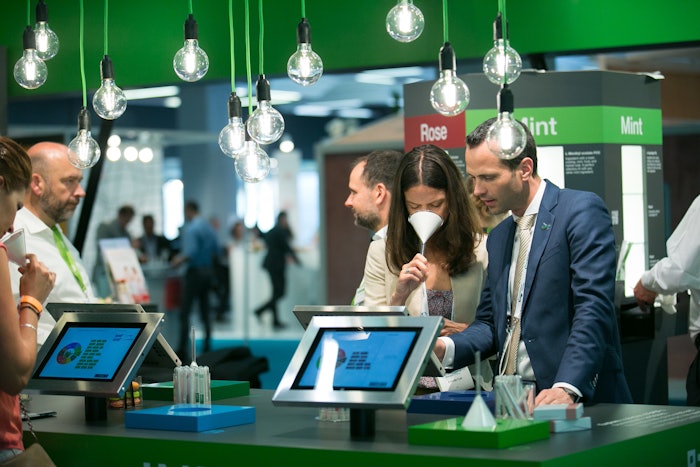 It wouldn't be the World Perfumery Congress without insight from perfumers! The three-day congress is set to host a slew of sessions, with a good portion being from fragrance creators themselves. Here is a look at all of the perfumers set to take the stage at WPC 2022 in Miami, FL. 
"Bridging the Gap Between Anosmia and Perfumery with Synesthetic Language" features Mane junior perfumer Ugo Charron.
"Part 1: Formulating with Woods" is hosted by Berje perfumer Michelle Bruckmann.
"Part 2: Formulating with Woods" is hosted by creative perfumer and perfumery education consultant for Quintis, Pierre Bénard.
"The Future of Fragrance Creation" is hosted by Symrise master perfumer Dirk Braun. 
"Effect of Fragrances on Emotional & Physical Wellbeing" is hosted by Agilex perfumer and P&F+ advisory board member, Neha Okhade.
"The Origin of Dreams: Musings of a Chemical Engineer and a Botanist on Today's Creative Approaches to Naturals in Fine Fragrance" hosted by Givaudan vice president of perfumery Rodrigo Flores-Roux and senior perfumer Stephen Nilsen.
"The Changing Landscape of the Perfumery Industry" featuring Firmenich principal perfumer Frank Voelkl.
"The Past, Present & Future of India's Fragrance Industry–Decoding it's DNA" hosted by Sacheerome chief perfumer Manoj Arora.
"The Benefits of Fragrance in Daily Life" featuring Procter & Gamble master perfumer Rafael Trujillo.
"Reclaiming Femininity: The Role of Women in Reshaping an Industry" featuring Givaudan vice president perfumer Adriana Medina.
"The Future of Perfumery from a Perfumer's Perspective" hosted by ISPC co-presidents Calice Becker (Givaudan) and Francis Kurkjian (House of Dior).
"What Can We Learn From the Indies?" hosted by 4160 Tuesday Ltd.'s Sarah McCartney.
"Fragrance's Sustainable Future Panel" featuring fine fragrance perfumer Nathalie Benareau alongside fellow fragrance industry experts.
"Fresh Faces in Fragrance Panel" featuring Chris Collins of World of Chris Collins alongside fellow fragrance industry entrepreneurs.
Register for WPC 2022
Early bird rates are now available for the three-day conference for $1,850. Attendees can also snag tickets for chosen days of the conference, as well as grab a ticket for the Fragrance Reunion Celebration on June 30. Register at worldperfumerycongress.com.
There is also a perfumer rate discount** for the three-day conference package ($1,250), more details can be found on the registration page.
** Qualified Perfumers is defined as trained perfumers working within the fragrance industry who are recognized as a perfumer (trainee, evaluator, etc) by an accredited perfumery society such as the ASP, SFP, BSP, etc. The WPC will vet qualifying applicants requesting the perfumer discount rate through these association partnering organizations. This discount only applies to perfumers who register for the three-day event. No perfumer discount applies to one or two-day event registration.