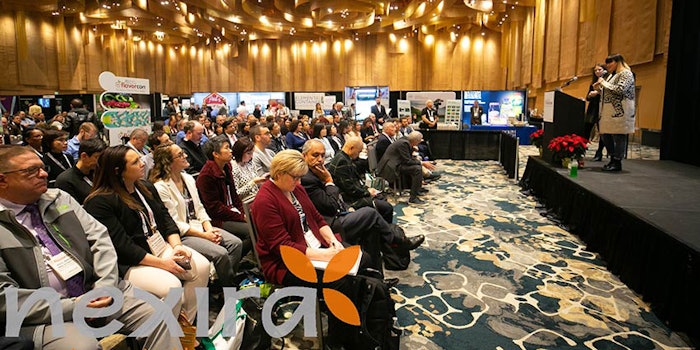 Flavorcon 2019 was held November 11-12, 2019 at Cincinatti's Duke Energy Convention Center.
The event's second day saw panels, talks and workshops on a wide variety of topics relevant to flavorist and the professionals who work with them.
Michelle Sparks, consumer insights, Perfetti Van Melle, spoke on the ways in which the company offers "Goodness Without Compromise: Delivering 'Better for You' as a Larger-Than-Life Candy Brand," showing guests how a brand such as Airheads can cater to the growing number of consumers looking for clean labels.
Emeline Diridollou of Naturex shared insights on "Answering Consumers' Desire for Healthier Products with Botanicals."
Altus' Jon Fernandez (senior vice president and co-founder) and Sean Arnold (senior vice president, production and product development) joined Tony Moore for a panel discussion on
The Cannabis Conundrum: To Chase or Erase?"
Michelle Bruckmann of Berje offered a perfumer's perspective on the accords and characters that move between fragrance and flavor.
JM Smucker Company R&D scientist Paul Breha walked formulators through all of the key elements to bring a flavor product from life, offering insights on everything from responding to marketing requests to meeting legal and regulatory requirements.
Director and CCO of bio-bean George May discussed how extracting key residual volatile aroma compounds from food-grade spent coffee grounds can lead to sustainably flavored products in a wide variety of applications.
Bryn Thomas and Doug West of Givaudan offered insights on attracting STEM students to the world of flavor.
Professor and researcher Tao Feng discussed popular flavors used to create clean-label products in China, including pomegranate from Xinjian, finger citron from Zhejiang, black truffle from Yunnan and citrus from Jiangxi and Chongqing.
Bob Tyler of Pall Corporation discussed the benefits of using enclosed sheet technology in flavor houses.
Nadji Rekhif, senior flavor specialist at the Nestle Development Center, discussed the ways flavor houses and food manufacturers can overcome the two biggest challenges in creating plant-based meat analogues: inherent plant protein off-flavors and high interaction of flavors with proteins.
Mafco global director of R&D Mark Hines discussed how glycyrrhizin, a derivative of plant-based licorice root, can mask bitterness and off-flavors in CBD products including beverages, oil tinctures and edibles.
ADM Nutrition's chief global dairy flavorist Sudarshan Nadathur presented the "Workshop: Flavor Challenges with Plant-Based Proteins," offering insights on understanding the source of off-flavors and countering them with the appropriate masks.
Marie Wright, vice president and chief global flavorist at ADM Wild, explored flavored products with fragrance notes—and the close alignment of fragrance and flavor—during her workshop "The Fragrance Behind the Flavor."
Travis Houston, sensory specialist at Cincinnati's own Rheingeist Brewery, discussed the ways in which four simple ingredients—water, malt, hops and yeast—can yield an array of flavors during "Crafting New Flavors in Beer Using Traditional Ingredients."
The event closed with a networking reception held at Rheingeist Brewery, featuring food, fun and, of course, plenty of brews.
Thank you to everyone who attended Flavorcon 2019. See you all in Philidelphia!