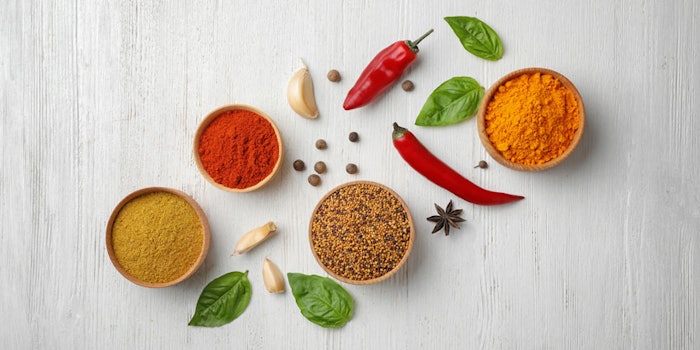 On the first jam-packed day of Flavorcon 2019, attendees were given the opportunity to peruse flavor innovations on the busy tradeshow floor and listen to leading industry insights during the conference portion of the event. 
From bourbon experts to fermentation specialists to cheese advisors, no flavorful box was left unchecked.
Day 1 At a Glance
Dave Pirazzini, senior manager, Innovation at Rebbl: Pirazzini spoke about keeping the consumer engaged with products that are familiar, yet new, He touched on not 

compromising the values and mission on which companies were founded. "This can make the innovation process even more challenging but can also lead to the creation of products that are truly unique."

Lakshmy Ravindran, account manager, Mane Inc: Ravindran touched on the topic of natural antioxidant solutions, specifically 

OxiKan CL, a fully decolorized, deodorized and deflavored liquid extract of selective antioxidant molecules of rosemary, meant for packaged foods that are sensitive to color, odor and flavor.

Steve Pringle, VP Global Mint & Sensates Group, Takasago International Corp: During his session, Pringle 

explored natural beyond its current flavor declarations and dug further into sustainable and renewable as areas to create value.

Kavin Morgan, global health care flavor section head, Procter & Gamble: Morgan 

outlined the challenges faced in oral and personal healthcare product chemistries and how to apply this knowledge to create irresistible taste experiences.

Robert Ganiere, product manager, Flavors & Fragrances, MilliporeSigma (Sigma-Aldrich): Ganiere 

discussed the trend of personalization in consumer products, specifically focusing on the impact to flavor formulation and the need for a wide variety and new ingredients.  

Praveen Upreti, corporate R&D cheese advisor: Dairy Specialist, Nestle: Upreti explained that the demand for alternative cheeses is on the rise—a projected CAGR of 11.7% by 2022. He addressed the challenges that f

lavor poses on this segment of dairy alternatives.

Kevin Barasa, product manager, Sensient Technologies Corporation: Barasa 

took a look at extracts to see how they meet consumer's demand for clean product while still exceeding taste expectations, paying special attention to extracts, a crucial component to the future of food & beverage applications. Additionally, he addressed some of the myths and misconceptions of extracts as a flavor ingredient.

Pam Wiznitzer and Robin Nance, Beam Suntory: Discussed how cocktail and spirit menus are constructed, the cross-section between bartender and consumer trends, and how this influences brands towards new products and innovation.

Richard Pisano, Jr., president, Citrus and Allied Essences Ltd.: Pisano looked at the analytical differences of peppermint oils distilled from the same botanical variety but originating from different regions. 

Jesse Coiro, director of Filtered Lab Solutions, Erlab: Coiro discussed how filtration can dramatically improve a lab and facilities' nuisance odors without the need for additional HVAC capital cost, or building capacity load.

John Wright, independent flavorist and author: Wright examined the relative influences of the location, the grape, the winemaker and much else, linking drivers of liking to specific chemicals. 

David Zilber, director of fermentation, Restaurant Noma, and Jeff Gordinier, food and drinks editor, Esquire: The duo explored ideas behind what makes food delicious to chefs and diners alike and explored the going ons of the Fermentation Lab's explorations on the frontiers of fine dining. 

Elizabeth McCall, assistant master blender, Woodford Reserve: McCall discussed how Woodford Reserve creates unique flavors throughout its production process, along with a food pairing exercise.