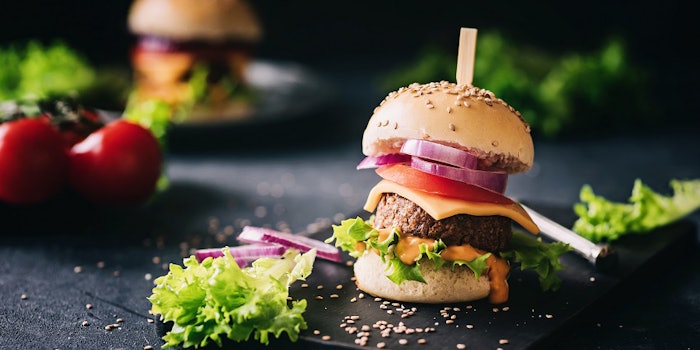 Few segments of the food and beverage industry–with maybe the exception of CBD-infused products– have witnessed such robust growth and diversification as the plant-based protein and meat-based alternatives markets. As consumers continue to adopt plant-based diets or flexitarian lifestyles, the demand for plant-based snacks, meats and beverages is projected to skyrocket.
Related: Flavorcon 2019 Registration Opens, Early Bird Rates Available
The growth isn't mere conjecture. According to UBSa, the plant-based meat market grew to $4.5 billion in 2018 and is expected to reach as high as $85 million by 2030. Brands like Impossible Burger and Beyond Meat are leading the way with its plant-based burger patties, both formulated with its proprietary technologies and natural flavors. In non-dairy milks, the market has expanded to include almond, rice, soy, hemp, oat, cashew, flax and hazelnut milks. The non-dairy milk market is expected to reach $38 billion by 2024, growing at a CAGR of 14% during 2018-2024, according to Reportbuyerb. If these reports are any indication, the plant-based food and beverage market will continue to grow with innovative and unique product offerings.  
With this increased demand for plant-based products, consumer packaged goods (CPG) companies are increasingly needing to address the bitterness of these plant proteins. Many F&F companies have responded in kind through various initiatives and investments. On July 11-12, 2019, Givaudan held a meeting for the Plant Meat Matters global innovation consortium, which it's a part of, and prior to it released a smart masking tool for plant-based proteins. Similarly, Firmenich has launched Smart Protein, a portfolio of ingredients and delivery technologies to create plant-based foods. Other flavor companies have invested in plant-based solutions and are preparing for more consumer demand in the future.
An Opportunity for the Flavor Industry
To prepare flavorists and flavor professionals for the plant-based future, Flavorcon has devised a conference schedule that provides technical insight into creating plant-based meats, cheeses and other products. These sessions include:
Flavor Development in Alternative Cheeses. Kicking off the conversation on plant-based alternatives on day one of Flavorcon, Praveen Upreti, corporate R&D cheese advisor: dairy specialist for Nestle, will present on how to create flavors for alternative cheese. During his presentation, he will compare and contrast traditional dairy cheese and alternative cheeses and how flavorist can fill the taste gap.
Flavoring Plant-Based Meat Analogues. From plant-based cheeses to meats, Nadji Rekhif, senior flavor specialist for Nestle Development Center, will discuss the flavor challenges of alternative meats on the Innovation Stage on day two of Flavorcon. During his presentation, he will highlight how to overcome two main obstacles of plant proteins: its inherit off notes and the high interaction of flavors with proteins.
Flavor Challenges and Opportunities with Plant-Based Proteins. Wrapping up the conversation on plant-based proteins, Sudarshan Nadathur, chief global dairy flavorist for ADM Nutrition, will present on how to overcome the challenges of plant proteins. During his presentation, he will explore the use of maskers to counter off-flavors and how they are important in creating a great-tasting product.
Footnote:
a https://www.ubs.com/global/en/wealth-management/marketnews/home/article.1441202.html
b https://www.marketwatch.com/press-release/the-global-non-dairy-milk-market-is-projected-to-reach-revenues-of-more-than-38-billion-by-2024-2019-03-26