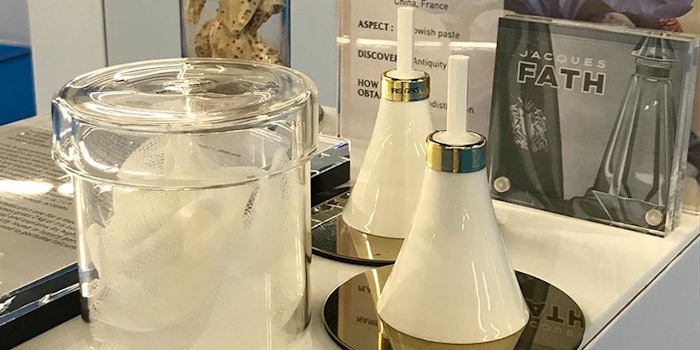 Located right in the hustle and bustle of Paris' 17th arrondisement, around the corner from local flower shops and brasseries, the Espace Champerett was the home for the 14th Salon International des Matieres Premieres pour la Perfumerie (SIMPPAR) from June 5-6, 2019. Hosted by the French Society of Perfumers (SFP), the 14th event, which takes place every two years, saw the largest number of exhibitors and attendees to date, according to one of the organizers, Thierry Duclos of Quimdis.
The two-day exhibition featured 100 exhibitors representing 22 countries and more than 2,000 visitors, including more than 200 perfumers. Duclos added that this year saw a 43% increase in attendees from abroad and companies featured more new technologies for perfumers and buyers on the hunt to discover novel materials.
In her welcome note, Veronique DuPont, president of the SFP addressed the exhibition's intentions by saying, "It will be a firework of wonderful raw materials, whether natural or synthetic, which are the fruits of a lot of work, research, know-how and passion. They are the roots, the basis and the foundation of our industry. They sublimate creation and allow us to charm users with beautiful compounds."
Speaking of raw materials, the day before, on June 4, the European Federation of Essential Oils (EFEO) jumpstarted discussions on perfumery and the future of naturals in its meeting a few blocks away from SIMPPAR. You can read the coverage here.
The SFP also awarded its International Perfumer's Prize to Florian Gallo, junior perfumer, Robertet. This year's theme asked perfumers to create a fragrance using tobacco to evoke the essence of an adventurer carrying "notions of heritage, discovery and travel."
From Natural to Renewable
Popular raw materials presented during the exhibition included Bulgarian rose, lavender, frankincense, citrus, mimosa and jasmine sambac; as well as renewable materials. Veteran exhibitors included Mane, A. Fakhry, Albert Vielle, ACS International, BASF, Bedoukian Research, Bontoux, Ernesto Ventos, Moellhausen, Firmenich, International Flavors and Fragrances, FP Aromatics, Lluch Essence, Symrise and MG Gulcicek, among others. Jandico Ltd., AzRose were among the new exhibitors this year.
Firmenich naturals presented two ingredients in its Tetraromea Fab series: orange and lemon, two ingredients notorious for a quick dry down in a fragrance; and Orriscienceb 8 irone, a technology that allows for a shorter lead time from maturation to extraction for orris root. Iron is responsible for the powdery, violet notes in orris root. With the Orriscience technology, the iron content can be developed more quickly to meet demand. Virginie Gervason, global marketing director, ingredients explained the company's latest proprietary technology to create cost-effective solutions for its showcased raw materials. The citrus extracted from the Tetrarome technology obtains both the essential oils from the peel and the odor molecules from the juice to create a longer-lasting citrus for fragrances. "For the citrus noble notes, perfumers have generally essential oils in their palette, rich in volatiles. With Tetrarome lemon and orange, concentrated in aldehydes and presenting low limonene content, we offer a new way to use citrus. To the traditional freshness, they add longlastingness, a rare benefit bringing with a same ingredient top and bottom notes" Gervason explained to P&F.
Renewable ingredients inspired by the botanicals of the Holzminden forest were highlighted at Symrise's booth, including the renewables ambrocenide crist and Symroxanec which were presented during the 2018 World Perfumery Congress. Perfumer Alexandre Illan described ambrocenide as a diffusive "very dry, woody, amber ingredient," and Symroxane, a soft woody and spicy ingredient to be used as a soft blender with spicy notes like pepper, and naturals like cedarwood, vetiver and guaiac. Ilan also presented Terranold, an earthy, patchouli-inspired ingredient ideal for woody, chypre and neo-chypre accords; and Poivrole, "a mixture of transparent woody plus spicy notes, and blends well with rosy accords."
Mane's booth featured paint swatches to represent the company's varied and "colorful" materials for the perfumer's palette. Featured materials included the Pure Jungle Essencef series (forest pepper, Timur pepper, eucalyptus), as well a couple of synthetic materials, bigaflower (neroli-esque) and driftwood (a woody sea salt material) and a biotech ingredient called vinyl gaiacol (found in clove and vanilla). Cyril Gallardo, director of ingredients, Mane, explained that the vinyl gaiacol can be used to fine tune a formulation that requires a vanilla note without having to use an extract which brings numerous molecules. "[For the] first time we can offer a natural molecule compared to the synthetic one and we don't have to use a vanilla extract that will be more costly. For formulators, they love to play with a single molecule because they can add something to shape their formulation…For fine tuning it's better to have a single molecule," Gallardo explained to P&F.
Related: 'The Value of Fragrance' Explored in IFRA Report
Mane presented a full range of materials covering olfactive qualities from spicy to gourmand and even fruity – which was shown with the tetrapleura pod, a wild tropical fruit from Cameroon. Extracting fruits are not only rare but difficult due to the high sugar content which impedes with the process. Gallardo explained this material to be a dried fruit imparting a fruity, gourmand and balsamic note. Havanawood, a new specialty ingredient presented at the event, is created using co-distillation of two natural raw materials. The sweet clover infusion exhibits a powdery tonka and coumarin effect with a hint of woody undertones. Because of its sensitive geopolitical state that tonka bean producers are experiencing as a result of the Nagoya Protocol in Brazil, customers are asking for an alternative to the botanical. "This is an alternative because of the coumarin and tonka [state] from another species found in the south of France and south of Europe."
Though nerol is not new to perfumery, BASF introduced its extraction capabilities by presenting its nerol produced via citral as opposed to petrochemical pinene. Due to its market stability, citral offers a more stable production rate without volatile prices. "The citral market is more stable than the pinene market, as it's a waste product of the paper industry," Lukas Jokisch, strategy and marketing, aroma ingredients, BASF, explained to P&F, "[Nerol] is not new to the market, it's produced differently."
The company also presented its dihydrorosan, which was launched last year at the WPC 2018 as an exclusive product. An alternative to rose oxide (a material that's high in allergens), dihydroroasn offers a boost to rose notes and a safe material for perfumery. The company also showed its pyrenol acetate, also launched at WPC 2018, which imparts a bergamot note, ideal for detergents and softeners.
Essential Oils and Perfumery Bases
Italian essential oil company, Cilione, presented its citrus lineup of bergamot, mandarin, lemon and orange. All essential oils are produced via cold expression. The company's representative showed its bergamot oil to P&F: fresh, floral notes which are obtained via molecular distillation from the peel of the fruit.
Specializing in essential oils, concretes, absolutes and floral waters, Kateko Ltd. is a family owned company in Plovdiv, Bulgaria. Veselin Ganchev, president, showed the company's juniper berry and needle oil, lavender, rose absolute, oil and concrete; and white pine oil. Also, from Plovdiv, Rosabul, a family-run business presented its essential oils, concretes and waters at the exhibition, including melissa essential oil, yarrow essential oil, zdravetz essential oil and rose damascene absolute. Zdravetz, a typical Bulgarian plant, means "health," and finding its presence in the wellness and aromatherapy segments. The aromatic oil, which crystallizes at room temperature, is sweet, woody, herbaceous and floral.
Dominique Moellhausen, perfumer and R&D vice director, Moellhausen, showcased its bold bases. Initially the bases were created internally using few perfumery ingredients, the company began promoting them to the public as fundamental building blocks with narrow olfactive profiles for creative and independent perfumers. "We decided to create bold bases either because we need to substitute raw materials because they may have problems with sourcing or legislation, or because we need to increase the palette. They can also be used as a cost-effective solution," explained Dominique Moellhausen, perfumer and R&D vice director, Moellhausen.
Related: [video] Two Sense: Perspectives from a Trainee Perfumer
Moellhausen presented several of its bold bases that surround trending top, middle and base notes, including nectarine, gardenia, lily of the valley, coffee, fir balsam, oud and vegan beeswax bold bases.
Of the beeswax base, the top note imparts a honey, fruity, balsamic and waxy note, with hints of florals like honeysuckle and rose. Moellhausen suggests it's great for sweet notes and a substitute for price volatile benzoin or vanilla. She explained, "Last year there was a discussion about beeswax absolute and whether or not it was vegan. We decided to create a vegan beeswax bold base. On one side we try to reproduce nature and on the other we try to enhance some nuances that can be interesting for the creator. We don't merely try to substitute beeswax, we try to create a new beeswax."
Through these bases, the company intends to address small/medium companies and independent perfumers and students who are unable to access materials as easily as larger companies. Moellhausen adds, "I think it's also in this spirit of our company to try and promote the growth of smaller/medium business, students, young perfumers, because we really support the combination of culture, education and olfaction. Bases are a very good way to get initiated. We call them building blocks for smart perfumers."
Footnotes:
a-b Trademarks of Firmenich
c-e Trademarks of Symrise
f Trademark of Mane