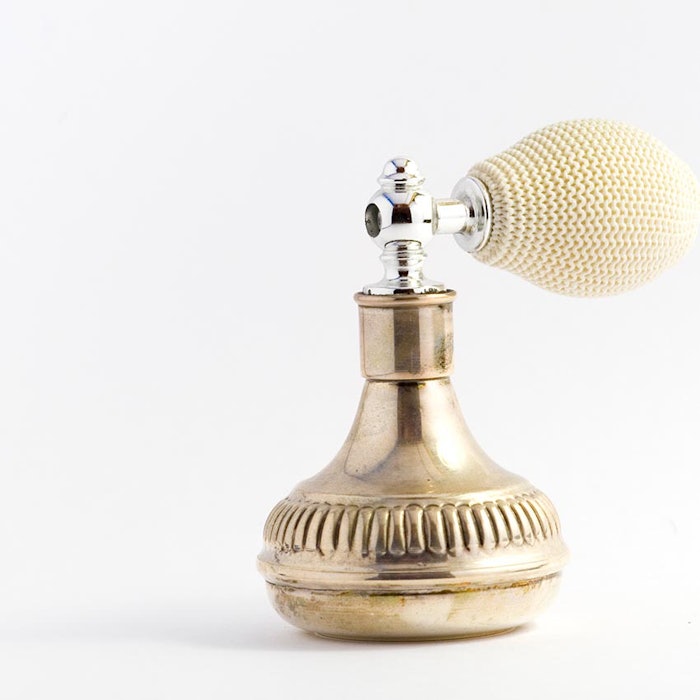 The 37th one day symposium of the British Society of Perfumers took place on May 16, 2019 at the Whittlebury Hall Hotel, Silverstone, the home of the British Formula 1 motor-racing grand-prix circuit. The sell-out meeting was held in rooms named after sister international grand-prix tracks – Monza, Suzuka, Hungaroring, Nurburgring.  
The day began with a special treat. Michael Edwards introduced "Perfume Legends II," the updated version of his iconic book of French feminine fragrances in his presentation, "From Niche to Niche, the Evolution of French Perfumery." Set for launch in September 2019, the well-known book has been reworked to include new research, stunning images and eight new legends have been added to this fascinating chronological listing of the top fragrances and their creators, beginning with Fougere Royale in 1882. The latest additions include Fracas 1948, Nahema 1979, Feminité du Bois 1992, J'Adore 1999, Flower by Kenzo 2000, Coco Mademoiselle 2001, Timbuktu 2004 and Portrait of a Lady 2010.
The theme was "Sustainability of Natural and Synthetic Ingredients," and the remainder of the day was spent rotating between presentations from Symrise, Axxence, IFF, Robertet and Floral Concept around this topic. Blackcurrant buds, timut pepper and black pepper and juniper were the stand out ingredients of the day.
Related: EFEO Meeting Explores the Future of Naturals
A fragrant mix of natural and synthetic
Dr. Peter Van Der Schaft of Axxense introduced the company, which is more known as a flavor company offering natural aroma chemicals. Demonstrated in colorful test tubes were:
Natural linalool oxide (FEMA# 3746), natural beta-damascenone (3420), natural rose oxide (3236), natural isoamyl phenylacetate (2081), natural ethyl trans-2, cis-4-decadienoate (3148), natural prenyl acetate (4202), natural prenyl ethyl ether (3777), natural 3-methyl-2, 4-nonanedione (4057), natural trans-2, cis-6-nonadienal (3377) and natural indole (2593).
Frédérique Remy, CEO of Floral Concept, along with Alain Remy and Julien von Eben-Worlée were present to introduce the French family company and its activities, which have always been focused on sustainability. The company's three P's are "profits, planet, people" and currently have interesting collaborations in Peru, France and India for the production of rosewood oil, blackcurrant buds, mimosa and jasmine sambac respectively. Particularly in demand for sampling were rosewood oil, three versions of blackcurrant buds, timut pepper from Nepal, jasmine sambac absolute light, and tuberose heart.
The Robertet team focused their attention on the sensory experience of FIZZY, led by Camille Denier. As company believes that customers are looking for a "wow" effect that imparts peppery, zesty, spicy and hot sensations, the team selected five products to demonstrate: black pepper CO2/TEC, elemi heart, juniper NHS, timut pepper CO2 extract and blackcurrant buds NHS.
Symrise presented a "Perfumer's Picnic" highlighting Symroxanea, Ysamber Kb (woody) and Cantrylc (aromatic and 100% renewable). The video featured an inspirational trip with colleagues in the forest first shown at the 2018 World Perfumery Congress, then invited delegates to sample a huge number of demonstration formulations at each of the three themed product tables.
Related: The Value of Fragrance Explored in IFRA Report
International Flavors and Fragrances (IFF)is currently focusing strongly on renewable ingredients, in some cases revisiting old favorites, due to an increasing amount of briefs requiring renewability. The company's presentation, introduced by Paul Pieschl, lead technical perfumer, featured a collection of formulas built around a selection of four IFF speciality ingredients designed to show various effects maximizing both olfactive and performance benefits. These included aquaflorad, edenolide (67% renewable), floral super (72% renewable) and prismantol (83% renewable).
The day was concluded by the society's AGM and Gala Dinner in the evening.
Footnotes
a-c Trademarks of Symrise
d Trademark of IFF