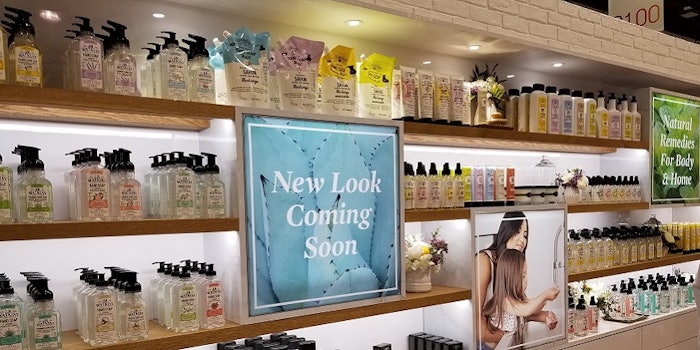 From natural foods and beverages to innovations in home and air care, the Natural Products Expo West (Expo West) featured over 3,500 exhibitors from across the supply chain. Taking place on Mar. 5-9, 2019, in Anaheim, California, over 86,000 attendees tasted, sampled and sniffed their way through the show floor—exploring the latest in the world of naturals.
While Perfumer & Flavorist didn't have time to stop by every booth or explore every product category, here are some of the products and trends we saw innovating the air care, home care and personal care markets. 
Related: RTD 2.0: Latest Innovations from Natural Products Expo West 2018 
Freshening Up the Home With Natural Scents
While probiotics have been a hot topic in the skin care market, the idea of probiotic cleaning and home products is a new one. At Expo West, Counter Culture featured its latest line of probiotic all-purpose cleaners, air and fabric fresheners and floor cleaning concentrates. Currently, the all-purpose cleaner and the air and fabric freshener are available in lemongrass and geranium scents, while the floor cleaner concentrate is available in lavender and lemongrass.
Operating in the same category, J.R. Watkins featured its range of products including its room fresheners, all-purpose cleaner, all-purpose wipes and candles with its recently redesigned branding. Its line of all-purpose cleaners come in lemon, lavender, aloe and green tea, grapefruit, ocean breeze and coconut scents, while its room fresheners come in those scents plus neroli and thyme, white pine and vanilla fig. Additionally, the brand offers scented, moistened all-purpose wipes in lemon and aloe and green tea scents.
Strictly operating in the air care segment, the "before you go" brand, Poo-Pourri, featured its range of bathroom aromatherapy products. The product is used by first spraying it into the toilet bowl before use, which creates a film on the surface of the water that traps odors under it. The brand featured some of its popular scents including Royal Flush (eucalyptus and spearmint), Ship Happens (coconut, freesia and citrus), Potty Potion (rosemary, tea tree and lavender) and others. 
Other home and air care brands that exhibited at Expo West included Mrs. Meyers, method and The Honest Company. 
A Scent of Personal Care 
Air and home care weren't the only scented products to be shown at Expo West. Personal care products were featured among many of the booths, including at Pacifica's booth. The company offers a line of scented facial masks including its Stress Rehab Coconut & Caffeine, Super Green Detox Kale & Charcoal, Pollution Fight Blue Algae Urban Defense and Mattify Prep Pineapple and Hyaluronic facial masks. Additionally, the brand featured its Pineapple Quench Oil-Free Water Serum, Berry Matcha Recharge Face Lotion and its Coconut Milk Cream to Foam Face Wash. Both product lines are formulated with natural fragrances. 
Similarly, Schmidt's Naturals featured its range of natural body washes, deodorants and bar soaps at its booth. The brand currently offers a range of deodorant sticks in rose and vanilla, bergamot and lime, lily of the valley, jasmine tea, coconut pineapple, geranium and lavender scents, each formulated with natural fragrances. The brand also provides ylang-ylang and calendula, bergamot and lime, rose and vanilla and lavender and sage soaps and a cedarwood and juniper body wash, formulated with essential oils and/or natural fragrances.
A personal care trend coming out of Expo West was the use of interesting or nontraditional base ingredients. The Seawood Bath Co. featured its range of face, body, hair and bath care products, created with its key ingredient bladderwrack seaweed. Its line of body care and hair care products include a body cream, body wash, shampoo and conditioner, available in eucalyptus and peppermint, lavender and citrus vanilla scents. Additionally, the scents are available in a bath bomb or sea salt/seaweed bath mix. Though these products are formulated with essential oils and not compounded fragrances, it shows a potential future for personal care product. With less traditional bases, it provided additional formulation challenges for perfumers creating scents in this product category.  
Other personal care brands that exhibited at the event include Acure, Burt's Bees, Tom's of Maine and Artnaturals. 
Market Drivers in Home and Personal Care
While this was just a small sample of all the products on display, it shows strong interest and growth in the air care, home care and personal care markets. According to a Grand View Research report, the U.S. personal care market; which includes skin care, hair, personal hygiene, makeup and fragrances, was valued at $134.26 billion in 2016 and is expected to grow at a CAGR of 4.58% from 2018-2025. Much of the recent growth is attributed to product launches with natural and botanical ingredients.
Strong growth is also being seen in the air care and home care markets. According to a Grand View Research report, the U.S. air freshener market was worth $1.62 billion in 2016 and is expected to register a CAGR of 3.4% from the period of 2015-2025. In terms of product formats, the traditional spray or aerosol air fresheners comprised the majority of the market. Similarly, the home care market is expected to see growth and expansion. According to a Mordor Intelligence report, the global home care market is expected to grow 3.8% from 2019 – 2024, due to expansion in India, China and Argentina markets.
With these market indicators and the products displayed at Expo West, each segment should see expansion, along with fresh scents and innovation.