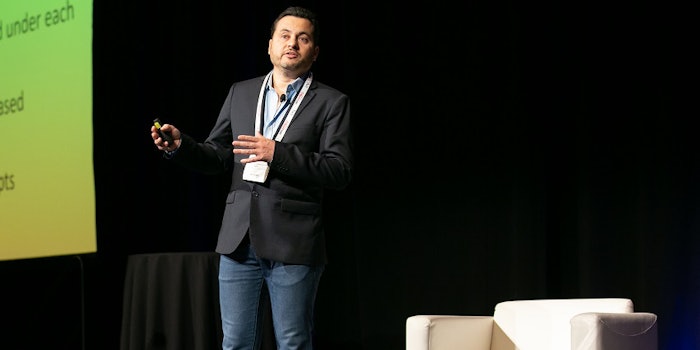 Flavorcon 2018 started its first day with a look at the relationship between trends and flavor development through a series of presentations by the industry's flavor, food and regulatory experts.
More than 500 attendees and over 40 exhibitors convened at Harrah's Resort in Atlantic City for the 2.5-day flavor conference. This year's event featured an Innovation Stage in the Expo Hall for interactive education and product demos. The Education Stage held the general sessions where experts shared their insights on key issues and opportunities driving the flavor, food and beverage value chain.
Insight in Innovation With Subway
Kicking off the day of presentations was Rodolfo Estrada, director of culinary/R&D/innovation LATAM for Subway, who discussed Subway's approach to product development and innovation.      
During his talk, Estrada shared Subway's multi-step process to create its products. Starting with ethnographic and thematic research, the company highlights cultural opportunities in the market and identifies the white spaces that the product would address. Next, the process moves into the drafting stage with conceptual development, prototyping and consumer research. Lastly, the product moves into market testing and finally to the launch stage. For example, chicken is the primary protein for Caribbean consumers. Estrada's team then researches the local seasonings and spices to create a dish on the menu that highlights the Caribbean dining culture. However, there's always room to evolve a product, even after the launch and market test phase, Estrada explained.
Meeting Demand, Reformulating Flavors
The conversation moved from the finished food process to flavor development in the next keynote presentation by Matthias Guentert, Ph.D., flavor consultant, and Ketan Shah, consulting senior flavorist for Esha Flavor solutions. The two speakers discussed the relationship between trends and flavor development and how formulations are evolving to fit the needs of the conscious consumer.
"We as consumers have become a lot more demanding," said Guentert. "We have more choices and we want more choices. We feel good about what we do, what we eat. We are socially conscious. This is credited [largely] to millennials." 
In recent years, the largest trend impacting flavors has been the demand from consumers for natural, free-from and reduced sugar/salt products – each bringing its own unique set of challenges. Guentert mentions flavors with modifying properties (FMPs) as a solution to address formulation challenges impacted by these trends. FMPs improve and maintain the overall taste without imparting a flavor. When using FMPs, however, flavorists need additional sensory data with use level and maximum use levels.
For natural flavors, flavorists must use a limited palette and provide extra documentation to verify its natural status. In creating flavors with reduced sugars, often artificial and natural sweeteners have to be added to the equation to regain its flavor. 
"Removing the salt, sugar and calories is becoming more and more and common,"  said Shah. "It is challenging for the flavorist side ... lot of times you end up concentrating the flavor so much that there are solubility issues."  
How Hot Do You Like It?    
Once thought of as a niche segment in the food and flavor world, spicy and hot flavors have continued to see solid market growth and product diversification, including ghost pepper, habañero and Sichuan flavors. Shane McDonald, principal flavor chemist for Kalsec, discussed the global market for specialty peppers.
"According to Kalsec data, about 90% of U.S. consumers and 80% of European consumers enjoy hot and spicy foods," said McDonald. "This is a growing trend. One out of four U.S. consumer and one out of five European consumers are eating more spicy foods than they did one year ago." Chef, product developers, and flavorists are utilizing different specialty peppers to add depth, heat and complexity to their creations.  
In addition to overall growth and interest in spicy and hot flavors, consumers are also more concerned about the type of pepper they're consuming. According to a Kalsec study, 36% of U.S. consumers reported that the source of the heat was important. Among the top sought-after peppers, jalapeños were rated the highest at 62%, cayenne at 59% and chipotle at 54%. 
Do it for the Instagram
Following this presentation, the topic of trends changed from what's hot to what's memorable and experiential. During "Food Today: What's Brewing & Cooking," Amy Marks-McGee, founder of Trendincite, provided insight into emerging flavor and food trends and how the experience economy is changing consumer's perceptions and expectations.
Marks-McGee started her presentation with a look at the emergence of food museums like the Museum of Ice Cream and The Cado (an avocado-themed museum) and how consumers, especially millennials, flock to them for Instagram-friendly photo opportunities and interactive experiences. Similarly, restaurants, bars and cafes have found other ways to create memorable experiences, including speakeasy-style bars and Harry Potter-themed events. Other trends discussed during her presentation include novel flavor crossovers in products (Taco Bell chips, Sour Patch Kid yogurts, and Hellman's ice cream) and creative packaging (cold/heat sensitive labels, VR/AR packaging and beverages in the shape of the product's flavor).  
FEMA GRAS and Regulating Flavors 101
Wrapping up the day of conference presentations, Joanna Drake, general counsel for the Flavor and Extract Manufacturers Association (FEMA) spoke about establishing a regulatory authority for flavor materials and issues surrounding flavor labeling.
During her presentation, Drake provided background information about FEMA, how the association communicates between U.S. regulatory authorities and the flavor industry, and labeling requirements for flavors. FEMA's overall mission is to further the business interests of its members through its sound scientific program, designed to promote the safe use of flavors. Key activities of the association include sponsorship of FEMA GRAS and flavor safety programs.
"If a flavor ingredient doesn't have regulatory authority to be used as flavor, it can't be labeled as flavor," said Drake. "They are separate—regulatory authority and labeling—but the labeling conclusions really depend on having an appropriate regulatory authority to use. When you are formulating ... the first step is [to ask] do I have regulatory authority to use as flavor? Then you can do the analysis on how it can be labeled."