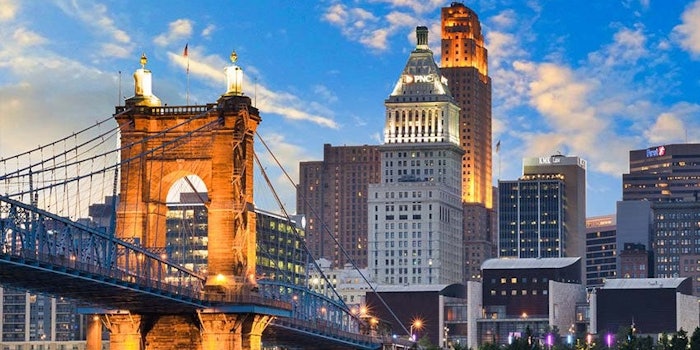 Flavorcon 2019 will be held Duke Energy Center in Cincinnati, Ohio on Nov. 11-12, 2019.
A flavor and food hub, Cincinnati is home to some of the industry's top flavor houses and consumer packaged goods companies, including Kroger, Procter & Gamble, ADM, Mane and Givaudan among many others. The city is also home to culinary staples like Cincinnati-style chili, barbecue, Graeter's ice cream and Goetta (Cincinnati caviar), a ground meat and steel-cut oat dish flavored with bay leaves, rosemary, thyme, salt and pepper.

Presented by Perfumer & Flavorist magazine, Flavorcon 2019 will feature two days of education from leading flavor and product development experts, as well as a flavor expo. The interactive conference is uniquely tailored for flavorists, heads of innovation and R&D, consumer packaged goods professionals, applications staff, food scientists, sensory staff, sales experts and other professionals involved in the development and manufacture of flavors, foods and beverages.
The event intersects flavor, food science and product development. The live, interactive forum offers practical tools for flavor and product development through ingredient, formulation and applied sensory insights. Attendees will learn, network and bring back useful tools and skills to their teams.
Deniz Ataman, managing editor, Perfumer & Flavorist magazine; conference director, Flavorcon 2018, said: "We are excited to bring Flavorcon to Cincinnati in 2019. When deciding for a location, we wanted to choose a city with a rich flavor and food presence and a dynamic history in the culinary industry. We're delighted to have leading minds from the global flavor industry and beyond presenting in Cincinnati. The educational sessions, paired with the exhibition and networking events, will provide flavor professionals with the tools and insights to do their jobs while also offering an opportunity to reconnect with colleagues from around the globe and form new contacts."
In addition to the expert-driven conference, Flavorcon includes a full flavor expo. "Flavorcon attendees are looking for suppliers and new innovations to help them create winning flavors and products. It was only natural that we offer this key component to Flavorcon to connect suppliers and attendees. The exhibition space at Flavorcon provides the perfect setting for attendees to taste, smell and exchange ideas with these innovators." said Paige Crist, associate publisher, Perfumer & Flavorist magazine; business director, Flavorcon 2018.
With successful past events, Perfumer & Flavorist is poised to grow the Flavorcon event. More than 500 flavor industry professionals will convene at the 2018 Flavorcon, which features its first-ever Innovation Stage to demo and learn about new products. The 2018 conference will also feature keynote presentations from Subway, Colgate-Palmolive, General Mills and Kings County Distillery. Representing 26 different countries, attendees will include flavorists, applications staff, ingredients experts, flavor delivery specialists, food scientists, product developers, sensory staff, management and consumer packaged goods company professionals.
About Perfumer & Flavorist (P&F):
Perfumer & Flavorist (www.perfumerflavorist.com) is the leading technical and business content provider for the flavor and fragrance (F&F) industry.  Serving the flavor and fragrance industry for more than a century, the P&F brand is the premiere information resource for perfumers, flavorists and other industry professionals. Covering flavor and fragrance chemistry, techniques, materials and industry news, P&F delivers high-quality content in its monthly print and digital magazine, weekly e-newsletter and on its website.
About Allured Business Media (ABM):
Allured Business Media (www.allured.com) a global information leader in the cosmetics, fragrance, flavors and professional skin care markets. ABM is a family-owned B to B media company that serves these industries through magazines, e-newsletters, websites and events. We deliver job-critical information to our audience and connect qualified buyers and sellers.