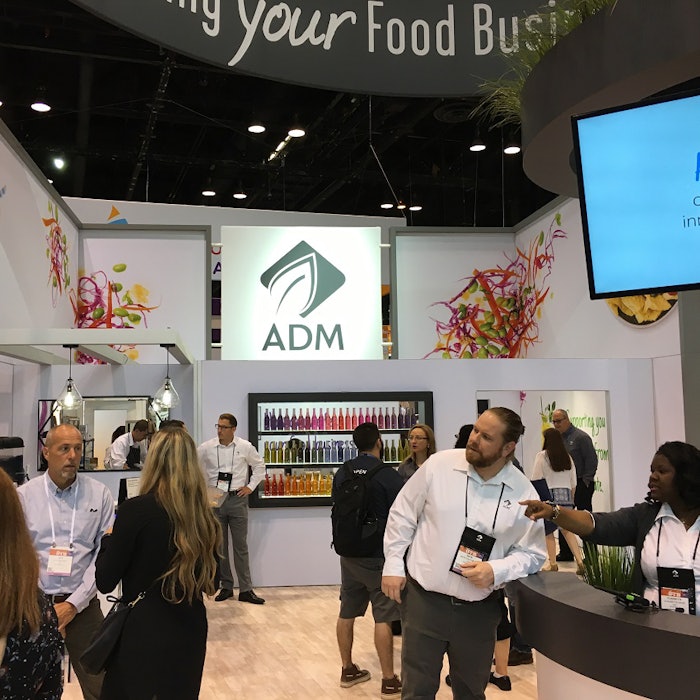 During the 2018 IFT food expo and conference, which took place from July 15-18, 2018 at McCormick Place in Chicago, IL, food and flavor professionals gathered to discuss the latest innovations and trends happening in the industry. On July 17, 2018, Perfumer & Flavorist (PF) attended the event to explore and taste what's fresh in food and flavor.
Charcoal Juices to Native American Flavors
Starting the day, a group of trend experts and forecasters presented on popular and emerging flavor and food trends. During the "How to Use Strategic Thinking to Navigate Consumer, Beverage, Food and Flavor Trends" session, Amy Marks-McGee, founder of Trendincite LLC; Suze Badaracco, president of Culinary Tides, Inc.; and Maeve Webster, president Menu Matters, each shared their unique observations in a panel discussion.
Marks-McGee started the discussion focusing on the activated charcoal trend. Gaining fame for its use in face masks and body scrubs, charcoal ingredients have made their way into products like juices, ice cream, coffee beverages and even pizza crust. Following a look at the charcoal-infused segment, Marks-McGee then turned her focus to the emerging trend of healing crystal or high vibrational-infused products. Though still in its infancy, products like Nectar Café's dream bottled waters and Rock and Raw's high vibrational water have emerged on the market, which feature gemstone and botanical infused waters for consumers looking for energetic and spiritual healing claims. The bottled water segment overall is also seeing strong global attention. According to an Industry Data Analytic report, the bottled water market is projected to grow by a CAGR of 10.67% from 2018 to 2023, led largely by functional options and emerging Asian markets.  
Following Marks-McGee's portion, Webster took a closer look at the ever-growing Indian food market and the newly emerging Native American cuisine scene. First looking at Indian foods, she explained how Indian flavors began gaining prominence in U.S. markets with chai-infused beverages, curry flavors, naan and other regional tastes. According to a Nielsen Sales Data report, Indian flavors have seen strong growth with product launches including tandoori spice increasing by 133%.  
She then discussed the emerging Native American cuisine movement, which has been gaining popularity due to Native American chef and author Sean Sherman. Promoting locally sourced and clean ingredients, Native American cuisine has been resonating with consumers that are looking for healthier and simpler foods and flavors. Some popular dishes include frybread, cornbread and succotash (a bean, corn blend) and are usually prepared simply or subtly flavored, occasionally with wild ginger, miners' lettuce, juniper berry or ramps. 
Lastly, Badaracco examined the multi-dimensional bean-based product market. As consumers are increasingly gravitating towards healthier products, bean products have gained popularity not only cuisines but in snacks and even RTD beverages. According to a FAIRR market report, retail sales of plant-based foods grew by 8.1% from August 2016 and August 2017. Following a look at the bean market, Badaracco explored the emerging interest in products with cognitive benefits. According to a 2017 Food and Health Survey, 96% of respondent wanted food and beverages that provide added health benefits. As consumers look to fight a range of health and mental health issues, they are looking for products with turmeric, curcumin, green tea, chocolate, coffee and other ingredients. These flavors and ingredients have appeared in a number of beverages, confections and snack products. 
Latest in Flavor Innovation
IFT featured a food expo with over 1,200 exhibitors from across the food and flavor supply chain. Despite offering different services and products, many exhibitors focused on natural offerings and high-performing flavors, including:
ZoomEssence featured its range of CoolZoom powders in a range of beverage applications. Created with its proprietary technology, the powder is a liquid quality ingredient that provides improved solubility, high-impact taste and can be used for natural and clean label products.
Kalsec took the alcohol out of popular beer flavors with its flavor ingredients. The company featured its IPA, lemon shandy, porter, pumpkin spice and wheat flavors, along with a bloody Mary and IPA mustard pretzel snack.
Solvay featured its latest natural vanillin product, which was released shortly before the event. The ingredient can easily replace synthetic vanillin and be used in a range of chocolate, confectionery, bakery and beverage applications.