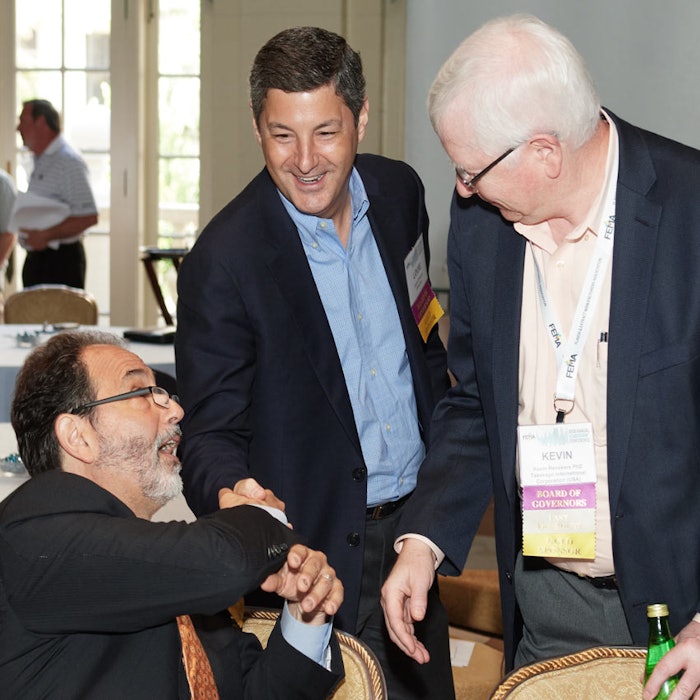 Photos courtesy of Lila Photo.
This year's Annual Leadership Conference highlighted the latest trends directly impacting the flavor industry. The event was hosted by the Flavor and Extract Manufacturers Association (FEMA) at The Breakers in Palm Beach, Florida, May 6-8, 2018.
A variety of sessions provided in-depth perspectives on a range of issues from Wall Street to Capitol Hill through presentations by authors, media personalities and legal experts.
FEMA President John Cavallo, Ph.D., kicked off the event with the president's address, outlining a variety of initiatives completed during his tenure as FEMA president. In addition to highlighting progress on FEMA's strategic planning efforts, his presentation featured the debut of two new public-facing videos on flavors.
During Monday's CEO Perspective presentation, McCormick President, CEO and Chairman Lawrence Kurzius shared McCormick's Purpose-Led Performance approach to corporate social responsibility and sustainability. Rich Karlgaard of Forbes explained how businesses establish teamwork and culture as their cornerstones to maintain competitive advantage in the marketplace.
FEMA recognized three individuals for their invaluable service to the organization and the flavor industry:
Emerging Leader Award: Martin Ongteco, vice president – innovation, Robertet, Inc. The Emerging Leader Award recognizes member company representatives who are new to FEMA, the flavor industry, or both, who are inclined quickly to offer their time and abilities to further FEMA's mission, and who demonstrate valuable leadership qualities in a relatively short amount of time.
President's Excellence in Service Award: Kathleen Crossman, vice president – regulatory, FONA. The President's Excellence in Service Award acknowledges individuals who have helped build the pillars of the organization without the status of being on the Board of Governors or serving as FEMA president. These are people who have dedicated a great amount of time to keep FEMA moving forward in all areas.
Dr. Richard L. Hall Distinguished Service Award: Richard Pisano, Jr., president, Citrus & Allied Essences, Ltd. The Dr. Richard L. Hall Distinguished Service Award celebrates individuals whose careers have been marked by unique commitment and service to the flavor industry. The award pays tribute to those who have shown outstanding dedication to the advancement of the industry and to FEMA.
On Tuesday, CNBC senior analyst Ron Insana discussed the economic ramifications of legislative policies, as well as the influence Wall Street has on political decision making. Next, Alec Ross described how changes in technology influence culture and business by using key points from his best-selling book "The Industries of the Future." Finally, FEMA general counsel Joanna Drake discussed trade secret protection issues impacting the flavor industry.
"This conference is designed as a unique forum for leaders throughout the flavor industry to hear about the trends that will have a high-impact on businesses in the years ahead," FEMA executive director Jerry Bowman said. "Ultimately, the topics, speakers and networking opportunities are designed to share insights that participants can take back and apply to their own businesses to address fast-changing market demands."
Additionally, FEMA will host a flavor labeling workshop during its summer meeting June 19-21, 2018. Visit the FEMA website for more details.