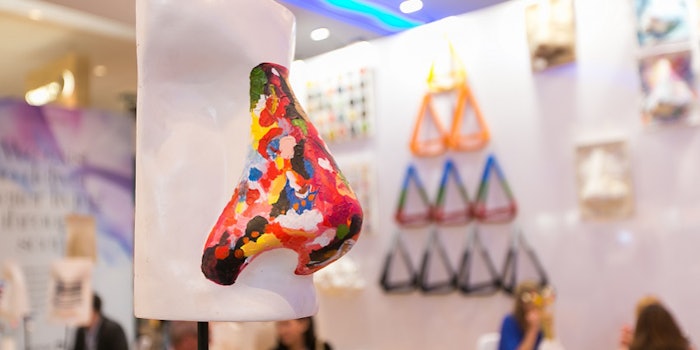 The World Perfumery Congress (WPC) has announced the artists that will be featured in the first ever WPC Art Exhibit, which will take place June 5-7, 2018 in Nice, France.
Taking inspiration from WPC's theme of the year, A Sense of What's Next, each artist will present their unique take on olfactory art, using a range of materials and scents. Each artwork will use visitors' senses to tell a unique story. The art and artists that will present at WPC 2018 include:
Dessine moi un arc-en-ciel by Esmeralda Kosmatopoulos. Commissioned by the Museum Louis Braille, the olfactory installation lets visitors explore the concept of color beyond its visual element. With the help of seven visually impaired participants and perfumers from Givaudan, the artist was able to create the seven colors of the rainbow in scent form.
Explore the Expansion of Space by Ruvan Wijesooriya. Wijesooriya's art will combine minimalist meditative films paired with a soundtrack and scent. The fragrance, which was created by with Darryl Do of Delbia Do, will feature woody and earthy notes, along with a papaya & passion fruit and fresh green accords. 
Darkpools by Fabio Lattanzi Antinori and Sergey Dziniruk. Inspired by anomalies recorded in private financial markets known as dark pools, this artwork will be comprised of a fragrance and a freestanding sculpture. Based on the frequency of dark pools, the sculpture will emit a fragrance that contains metallic notes and an ambergris and musk accord.
*Correction: Ernesto Ventos will not be presenting as part of the WPC art exhibit as previously stated.