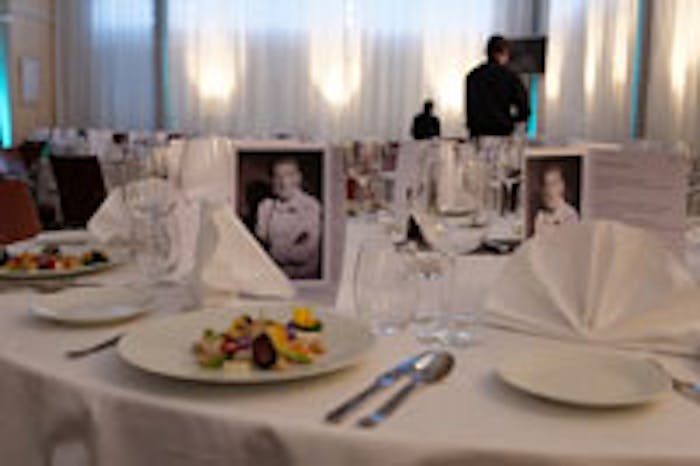 Firmenich recently hosted a culinary arts event at its historical site in Geneva to celebrate the link between culinary creativity and the science behind it.
The guest of honor was Pierre Gagnaire, a three-star Michelin Chef known for his inventive cuisine. The gathering, hosted by Firmenich in partnership with the University of Geneva's School of Science and Migros, Switzerland's largest supermarket chain, offered insights into Chef Gagnaire's creative process raging from the selection of ingredients to his use of science to transform those ingredients into unique cuisine.
Gagnaire pursues an organic style of molecular gastronomy, based on the use of high-quality and locally-sourced fresh ingredients. He then surprises the palate through unusual combinations of textures and tastes and the subtle use of molecular techniques. Members of Firmenich's culinary team, including a TechnoChef (who Firmenich appoints as those who have formal culinary training as well as secondary degrees in chemistry or food technology) joined Gagnaire's brigade to develop the evening's dinner. 
At the recent event, Firmenich's Estelle Delort, senior scientist, and Robert Wagner, director global product design, flavors, discussed how the company uses its Culinary Print process to decode what makes food taste great at the molecular level in order to translate its learnings into products that appeal to consumers.
Wagner explained how they recently focused on Bresse chicken, the gold standard for chicken in Western markets due to its creamy and soft notes. Delort continued by describing how she used the company's proprietary research techniques to uncover the unknown aroma compounds of this creamy soft taste, by discovering new molecules.
"First we use several extraction techniques to surface the molecules for a thorough review and selection by a flavorist. Once the flavorist points us towards the best notes to work with, we investigate how to translate them into flavor ingredients. In this particular case with the Bresse chicken, we discovered unknown molecules and thus enriched our palette with a new and unique soft and creamy note for exclusive use by our creators," said Delort.
Those new compounds are available either in synthetic form or as reaction flavors, which are created through a process of using high heat to trigger reactions on the molecular level of specific aroma compounds.
The culinary arts event also celebrated the long-standing collaboration between Firmenich and the University of Geneva. A strategic pillar of the company's innovation model is to partner with leading external experts, including start-ups and academic institutions.