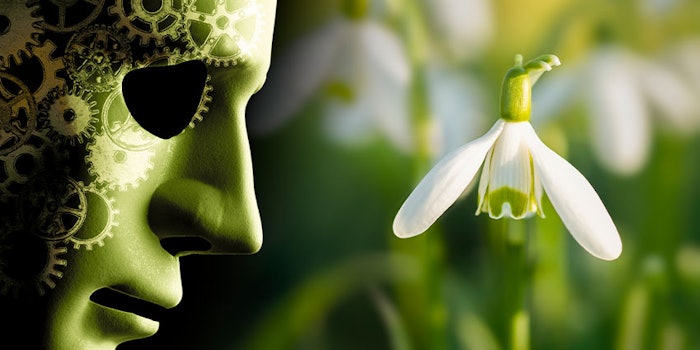 Many of the most groundbreaking developments in the fragrance industry as of late have come from the realm of artificial intelligence (AI). With continued technological advancements, and new innovative applications of those technologies, perfumers are now able to create unique, digital fragrances.
Related: [video] Symrise, IBM Research Bring AI to Fine Fragrance
A number of top fragrance developers have designed and implemented their own in-house AI systems as well as digital reference directories for use by both consumers and industry professionals. Givaudan created Carto, an AI scent creation tool which allows perfumers to develop their formulas with the help of Givaudan's Odour Value Map; Eve, an AI inspired tool used to create products based on the requests and capabilities of the customer; and, also, opened a digital factory in Paris.
Firmenich launched its D-Lab in conjunction with Ecole Polytechnique Fédérale de Lausanne to develop new flavor and fragrance creations. Symrise, in collaboration with IBM, developed Philyra, a smart assistant that aids perfumery innovation and development, and took it to Berlin for an unprecedented scent experiment to find the core fragrance of the city. Philyra has been used to develop a new line from O Boticário: Egeo ON.
The digital fragrance scene is so popular that ScenTronix Inc opened a temporary pop up in the Ace Hotel, New York: Algorithmic Perfumery, a cutting-edge system that allowed consumers to create their own fragrances through the use of an AI system (the pop up closed February 19, 2020). Fragrance raw materials were provided in partnership with International Flavors & Fragrances (IFF).
Fragrances for the Future
To prepare perfumery professionals for the future of AI in the fragrance industry, WPC has put together a comprehensive series of Perfumery and & AI presentations that provide critical insight into the rapidly advancing world of digital fragrance. These sessions include:
Artificial Intelligence, Machine Learning and Olfaction. Opening the discussions on AI on day two of WPC, Alexander Wiltschko, senior research scientist at Google, will explore the similarities and differences of AI and machine learning and how each can be used to improve fragrance and flavor innovation.
The Benefits of Creating Perfumes with Artificial Intelligence. Paulo Alexandre dos Santos Roseiro, R&D director for Grupo Boticário, will present on the accuracy and time saving benefits of using AI to develop fragrances and how to balance the convenience of AI with the alchemical art of human perfumery.
Fragrance 3.0: The Crossroads of Digital and Fragrance. Diving into the cultural and consumer driven trends, Emily Bond, head of Fine Fragrances, NOAM for Givaudan, will discuss the impact of the digital market on fine fragrance creation.