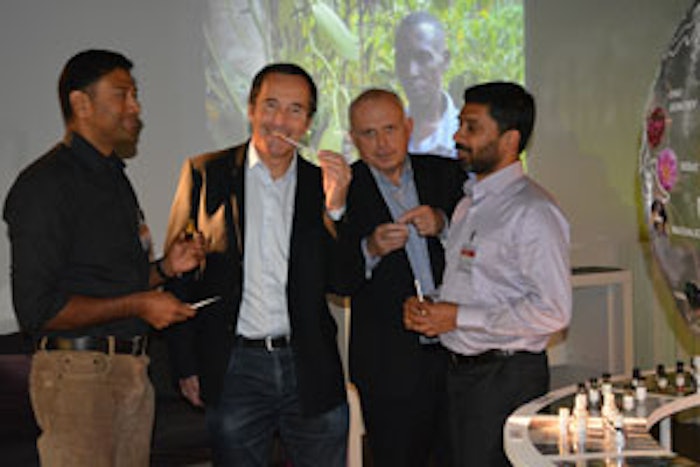 The livelihoods of 250,000–300,000 families depend on the future of natural aromatic crop production. As a result, Firmenich is uniting natural ingredient producers and perfumers in Paris for its Naturals Together event.
The 14 "ambassadors" for the event include producers of more than 40 key ingredients such as rose, jasmine, vanilla, tuberose, orange flower, patchouli, eucalyptus, vetiver, lavender, mint, cardamom, violet leaves, mimosa, clove, chamomile and more.
Led by Dominique Roques, Firmenich's head of natural sourcing, the event will "build stronger bonds with producers, aiming for structured partnerships bringing small farmers closer to perfumers."
The event will address topics such as bridging the divide between perfumery demands and long agricultural cycles, and ensuring long-term sustainability of production.
An official Firmenich statement notes, "Only a long-term mutual commitment can protect both parties from shortages and a crisis whose effects are as grievous for farmers as they are for perfumers."
Stable supply will be driven by responsible sourcing, Firmenich explains, while innovations in the field and production facilities will improve quality and yield new olfactory facets.
In addition, the company says, "This continuous dialogue is what allows us to establish ambitious improvement plans regarding allergens, pesticides and phthalates."
Master perfumer Olivier Cresp created two scents for the event. Together Her comprises rose, tuberose, neroli, jasmine sambac and grandiflorum, orange blossom, violet leaves, vetiver, lavandula, mint, pepper, patchouli, vanilla, eucalyptus and cardamom.
Together Him comprises orange, bergamot, neroli, lemon, mandarin, mint, cedar, eucalyptus, violet leaves, galbanum, jasmine sambac, lavandula, patchouli, pepper, rose, vetiver and vanilla.