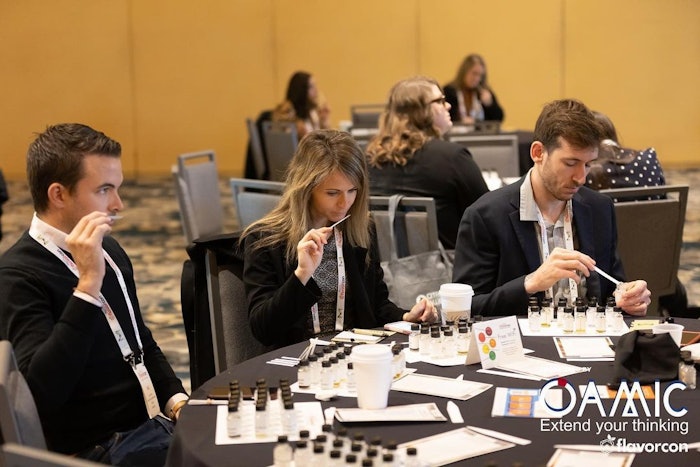 PETER WYNN THOMPSON
The Perfumer & Flavorist+ (P&F+) team is feeling very thankful for the flavor community for supporting the long-awaited return of Flavorcon 2022. It had been three years since the last in-person event and attendees, exhibitors and speakers were itching to reunite in Cincinnati, OH. 
Flavorcon is a global, interactive conference designed for flavorists, product developers, R&D leaders, food scientists and consumer packaged goods professionals designed to support sensory innovations and better-for-you breakthroughs for the flavor, food and beverage markets.
The two-day event was packed with samples from speakers, one of which was an 18 sample presentation hosted by ADM's Marie Wright alongside independent flavorist and "Flavor Bites" columnist, John Wright (pictured above). Other sampling sessions included plant-based sips from Kerry's Rajesh Potineni, delicious scoops from Cincinnati's own Graeter's Ice Cream, BioNookatone sips from Givaudan Flavour Ingredients (GFI) as well as flavor pairings with VCF Online's Willian van Dongen and Bell Flavors & Fragrances' and P&F+ columnist Cyndie Lipka. A special thanks to our inquisitive attendees who made their way to the microphones to keep the conversation going.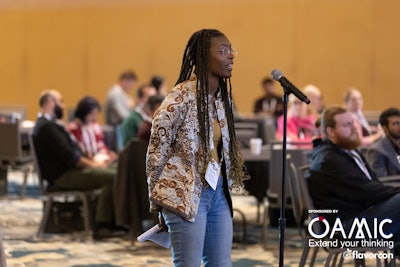 A special thanks to the exhibitors for going above and beyond with their display setups showcasing the latest ingredients, technology and innovation the flavor industry has to offer. Attendees were able to escape their screens to smell, taste and reconnect with colleagues while taking advantage of the opportunity to make new connections on the expo hall floor.
I would like to also acknowledge and thank our sponsors:
Platinum Sponsors: MilliporeSigma & C.A.S.
Silver Sponsor: Givaudan
The Tote Bags were provided by: Citrus & Allied
Photography sponsor: Oamic Ingredients
Networking Mixer: Sensient
Lanyard: MilliporeSigma
Flavorcon 2022 Attendees
Please be sure to hop on the Flavorcon 2022 app to fill out speaker surveys to help our team curate a lineup of interesting and informative presentations for 2023's event. If you are a flavorist who wants to tell share your flavor journey, submit a guest column or possibly be a speaker at next year's event, send an email to jrimensnyder@allured.com.
Want to get a booth in the expo hall? Contact Paige Crist, pcrist@allured.com, to get started and find out about more sponsorship opportunities. 
More photos from the event will be shared within the next week! Be on the lookout!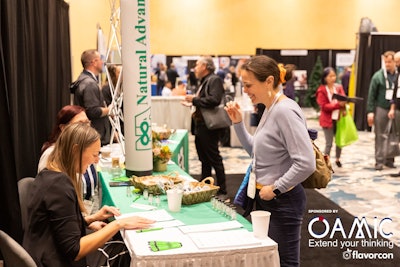 Flavorcon 2024 Dates and Location
Mark your calendar for November 8-9, 2023 for the next Flavorcon! The two-day event will be returning to Cincinnati's Duke Energy Convention Center. More information to come as the event approaches. Until next time!