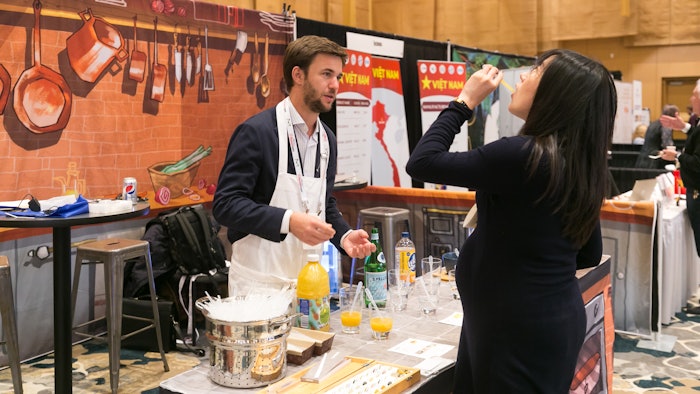 PETER WYNN THOMPSON
Tomorrow (November 9) is the big day! The return of Flavorcon 2022 is officially upon us!
Are you ready to experience the latest the flavor industry has to offer on the expo hall floor? For the full list of exhibitors, visit www.flavorcon.com. Make a list of which booths to explore, which companies to network with and more.
Here's a sneak peek at the expo hall:
Aryballe:
Aryballe will be presenting how digital olfaction can be used for rapid formula screening in beverage flavor reformulation; the company will also have a demo of Aryballe's new olfactive library at its booth. 
Bedoukian:
Cis-5-OCTENAL (BRI 359)
FEMA 3749, CAS# 41547-22-2
Nature Identical: Lisbon lemon peel
Demo: Cantaloupe flavored drink–adds sweet, characteristic, ripe notes
2-Octen-4-one (BRI 614)
FEMA # 3603, CAS# 4643-27-0
Nature Identical: Wheat bread
Demo: Strawberry pectin jelly–adds natural, fresh-picked character
Citrus & Allied Essences:
C&A is launching 6 new molecularly distilled spice oils that can be used in a variety of applications, especially beverages and fragrances.
Erlab, Inc.:
Erlab, Inc. is showcasing its newest technology that is designed to take filtration and detection to a whole new level with the company's new HALO 2 - Commercial grade air filtration system. HALO 2 integrates Erlab's world-class carbon filtration with H14 medical-grade filtration for molecular and bio-aerosol mitigation. With state-of-the-art sensing technology for VOCs, particles, and Co2, HALO 2 is designed to provide solutions to ensure the air you breathe is always free from harmful contaminants.
Illing Packaging:
Illing Packaging is set to showcase a comprehensive line of domestically supplied aluminum beverage cans and bottles, as well as its AISmartPackaging platform--a forward-thinking approach integrating tomorrow's technologies with traditional packaging.  
Omega Ingredients
Omega Ingredients is taking a trip to Wonderland as we are doing a Mad Hatters' tea party-themed stand, so please pop by to sample some delicious peach iced tea and Omega's natural extracts. You will be able to sample many different flavors to see the company's range of quality ingredients. You will also be able to see ΩMegaSweet is the company's new generation "natural flavor" technology in action in beverage applications.
American Custom Drying:
The company is set to showcase its flavors, fragrances, pharmaceuticals, nutraceuticals, vitamins, food ingredients, cosmetics, and soft chemicals spray drying services.
Citromax: 
The Citromax booth will be showing the company's new citrus oil products including colorless lemon oil and lemon oil fractions.
FMI:
Hydrocarbon-Free Essential Oils
IFF Ingredients - Flavor & Specialty:
Bitterness modulation concepts:
- Coffee extract with bitter extracts combination VS control
- Quassia with Oak FE VS control 
Javo Beverage Company:
Peruvian Espresso Extract
M&U International LLC.:
The company's booth is set to offer natural and synthetic C3 Hexenol (Leaf Alcohol). 
Silky Smooth MicroCreamery LLC:
The Silky Smooth MicroCreamery is set to offer all-natural and sugar-free sweetener blends:
1) SilkySweet Intense 1:1 (vs sugar), can be reduced up to 30% to desired sweetness 
2) SilkySweet 8x to help limit Allulose to 20g per serving
3) SilkySweet Bulk-Free 125-200x to replace Stevia & Monk Fruit Only
Attendees can sample in unsweetened coffee, tea, or lemon juice. 
Spoonshot:
The company will be showcasing its 2023 trends for the food and beverage industry.
SiyoMicro:
The booth will host the company's natural vanillin via ferulic acid is a natural-based ingredient produced by an established precision fermentation process with natural label claim and full flavor matching. Designed to offer a stable supply, regulatory compliance and cost-effective choice that ideally suited to customer's natural needs. It is the latest addition to SiyoMicro F&F portfolio.
How to Register for Flavorcon 2022
Be sure to visit www.flavorcon.com for applicable pricing. Attendees can also get last-minute tickets the day of the event at the door. Don't miss your chance to network with colleagues from around the world and experience the latest innovations the flavor industry has to offer.
Want to know everything going on in flavor & fragrance? Sign up for P&F+'s newsletter. You can also follow along on Instagram and LinkedIn.