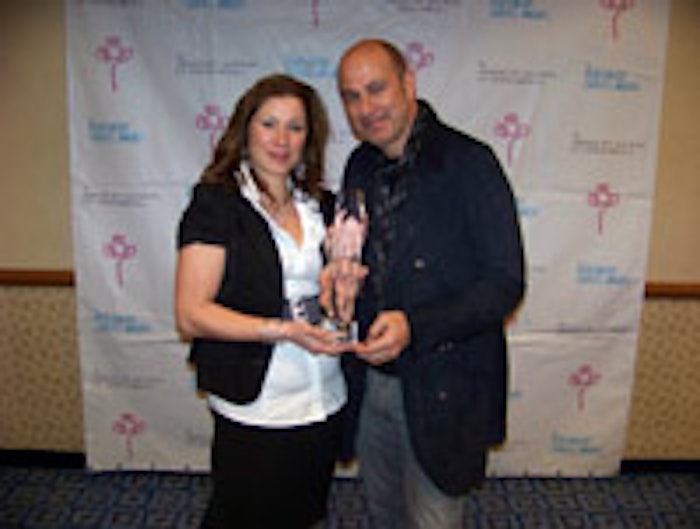 See photos from the 2009 Symposium here.
The 2010 American Society of Perfumers Symposium featured a round table discussion on globalization, rapidly changing consumer tastes, combating the loss of brand loyalty and ways to survive increased competition. The expert panelists featured Harry Slatkin (Slatkin & Co.), Karyn Khoury (Estee Lauder), Marsha Books (Coty Inc.), Nicholas Ratut (John Varvatos Fragrances), Linda Levy (Macy's Inc.), Marian Bendeth (Sixth Scents) and Kate Greene (Givaudan Fragrances).
Distinguished Honorees
This was followed by a special luncheon held in honor of Legends Award recipient John Varvatos. The recipients of the award, which is given annually to recognize extraordinary achievement within the fragrance industry, are selected through a rigorous process by a distinguished panel of perfumers. Acknowledging his sales team in his award acceptance speech, Varvatos said, "It's the people in the stores who blow my mind truly. Because wherever I go, no matter where I travel, these people know the story. They're passionate and they're the ones that really make it happen."
Meanwhile, Jim Krivda (Mane) received the William Lambert Award, while Jack Mowen (formerly of Takasago) received the Lifetime Achievement Award.
Jack Mowen: Insights Based on 50 Years of Experience
Mowen thanked the Society for the honor and discussed his years working with the organization and the enjoyment he reaped from the experience of networking with his peers. Then he shared some thoughts based on his decades of industry experience:
"Have we reached the plateau in recognizing the fact that the major houses need the input of not just their marketing personnel, but also their perfumers—and the constant review of their perfumers' creative effort and direction of their product?" he asked. "Scheduling should be set aside every few days, even hours, for a review of their project. During the first two weeks, the team of sales, marketing and perfumery should meet with the client at least three times."
Next, he said, "It is very important that perfumers can and do work with each other using a horizontal line. Don't be afraid to expand your horizons. During my career I have been involved in a multitude of projects which deviated from a perfumer's traditional role. Every new responsibility I assumed enriched my creative juices."
He added, "I very much enjoyed sharing my years of accumulated knowledge with various clients around the world: Switzerland, France, England, Germany and Asia. In Japan, with Pierre Bourdon, we gave eight presentations in as many days, demonstrating the compatibility of men's and women's fragrances and how they can be interchanged. This was 25 years ago. I believe this is an established fact today in the industry." He concluded, "In Japan a perfumer's blotter fell out of his hand as he fell asleep during one of our presentations—too much night life we suspected."
Closing his comments, Mowen told attendees, "Being a member of an advisory board examining new aroma chemicals opened up unique possibilities for me, especially in how I could apply their qualities to my own creative endeavors. In the early 2000s, I started a program combining flavor formula materials with fragrance to produce a unique natural quality, especially with regard to various fruity scents. Within two years we looked at solubility and stability testing."
Finally, Mowen offered these parting words: :Be entrepreneurial—shoot the dice, take the risk!"
Additional photos will appear in the April issue of Perfumer & Flavorist magazine.