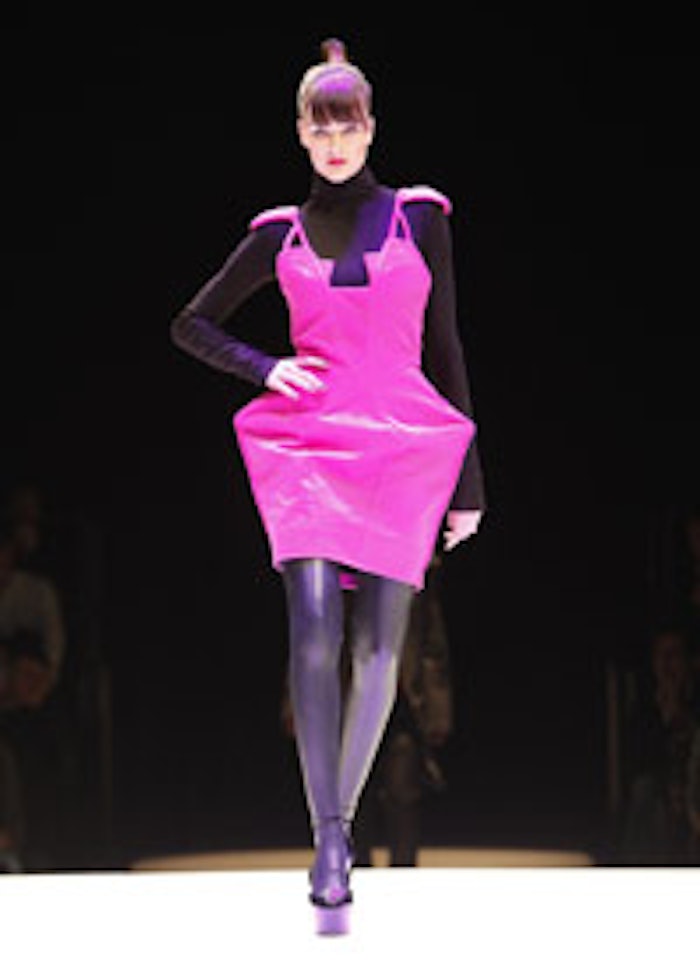 Fashion–fragrance fusion was on display at the AMD Fashion and Design Academy's recent show, NEXT.09, featuring fragrance compositions from by drom perfumers. Held at Munich's Zenith Hall, the event was themed Sinneswandel, meaning "change of heart," and was attended by an international audience from the world of fashion, arts and media.
As perfumer Pierre-Constantin Guéros explains, "We wanted to show that it is possible to tailor perfumes as well as clothing … When developing our concept fragrances to match the collections, we let ourselves be inspired by the patterns, colors and even the smells of the fabrics."
Following this line of thought, perfumer Barbara Zöbelein chose red clothes as the basis for a fragrance that sought to communicate "pure passion." "Red doesn't speak," she says. "Red shouts! Red is love, red is death, red is heat, and it brings together all the clichés." Poised in a "sea of musks," Zöbelein's fragrance was inspired by the sensuousness of plum, raspberry, and cherry, with hints of cinnamon and apple, "a touch of metallic blood" and a "pure animal scent."
Jan Fockenbrock, meanwhile, opted for the straight lines of masculine street wear—elegant-sporty men's fashion with Japanese and Icelandic flairs. To express the contrasts, he used Kyoto-inspired notes such as amber, vetiver and saffron and combined them with cold-pressed lime and white cardamom, which represented the isle of Iceland.
Guéros named his fragrance Dandy, translating a "metrosexual Bohemian" fashion collection into a cannabis-leather-spice chord. "With the cannabis, I wanted to create a modern version of the cigars smoked in the traditional English gentlemen's clubs. The color is earthy, with brown, green and red tints. I used lots of raw materials such as patchouli, vetiver, cardamom, clove, cinnamon and balsams that stimulate the masculine senses," he said.
Valerie Garnuch-Mentzel created fragrance that conveyed the shine of aldehydes and a gentle feeling of musk. "It feels like wearing a freshly washed cotton blouse against the skin. The magic reaction of the skin and the fabric triggers a sensual feeling that I have expressed in a spicy, warm ambery chord with a touch of patchouli," she explained.
Alix Miral translated her inspiration of skirts combined with black tops and tights, into a mixture of incense, musk, benzoin and Tonka beans—reminiscent of the richness, volume and darkness of the skirt and its fabric. The Everlasting Flower encloses the fragrance in a veil of spicy warmth. At the heart of the fragrance is a touch of licorice that stands for the color black, and in the top note, a hint of rhubarb brings an element of surprise with its contrast of a sweet pink accent and an aggressive green facet.
Of the event, Markus Schiek, managing director international of drom Fragrances said, "[W]e have been working with the Fashion & Design Academy for a long time. The exchange of ideas between the two creative worlds expands everyone's horizons."