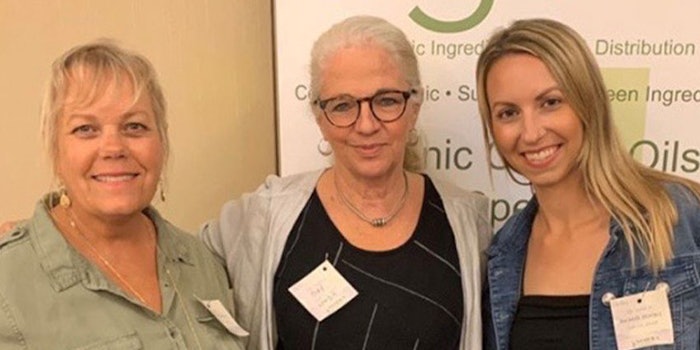 The Natural and Organic Health and Beauty Alliance (NOHBA) hosted its first ever summit in Los Angeles March 3-4, 2020. The summit was designed to bring together members of the natural, green, clean and organic segments of the health and beauty industry to discuss the issues specific to this rapidly growing sector.
Many who attended were there specifically because of the reputation and efforts of NOHBA's president and the driving force behind the event, Gay Timmons.
"What brings me here is Gay because I use some of her ingredients and I really value her input and I think that she does her research," said Uliv Skincare's Lishawn Lalonde. "I will take any opportunity to understand all the ingredients and what's next in green beauty and what's acceptable and not, and what's legal and what's not, and how you can get certified."
The common feeling within the event was very much one of coming together to increase a collective knowledge and connect with those hoping to impact the world in similar ways.
"I came to the event because I have long been interested in the whole regulatory component in this industry and the fact that there is no standardization around the language between clean green natural," said Kari Gran, Kari Gran Skin Care. "By forming a consortium of like-minded brands and all being on the same page together I think that all it can do is raise awareness and give this end of the industry a little more credibility. It's been fascinating to learn more about green chemistry, ingredients that I don't use or may never use, I think knowledge is the ultimately the goal and I'm just looking forward to hearing more throughout the day from other brand founders and industry professionals."
The event consisted of a day and a half of presentations on a wide range of relevant topics, including green chemistry, natural fragrance, packaging and regulations. Presentations included:
"Clean, Green, Natural," delivered by the NOHBA board.
"What is Green Chemistry," presented by David Anderson Jr., Colonial Chemistry.
"Natural Fragrance 'Rules,'" presented by Miriam Vareldzis, Pallet Naturals.
"Understanding Capital," presented by David Fife, Nextworld, and Christianne Molina, Stripes Group.
"Natural Sunblock: Tools & Rules," presented by Nadim Shaath, Ph.D., Alpha Research.
"What Happens in Mass Market to Mini Brands?," presented by Ashley Prang, Au Naturals, and Jana Blankenship, Captain Blankenship.
"Packaging Progress," presented by Rosalynd Resendiz, TricorBraun.
"Working with the State of California: Lions, Tigers and Prop 65," presented by Paula Johnson, Ph.D., The California Safe Cosmetics Program.
Perfumer & Flavorist associate editor Alex Mackenzie was able to sit down with presenter Rosalynd Resendiz, VP, supply chain, TricorBraun and find out more about the event, her presentation and the naturals trend as a whole.
Alex Mackenzie [AM]: How did you become involved with the NOHBA summit?
Rosalynd Resendiz [RR]: One of our customers recommended that we attend. We are glad to have participated! Thank you to Intelligent Nutrients for connecting us.
AM: What do you hope to accomplish through your participation in the NOHBA summit?
RR: Our goal was to help enlighten brand owners about sustainable solutions and methods, as well as glean information from the attendees that will continue to shape this market disruptor. All packaging brands and providers are looking for the best solutions to protect our climate, so we were grateful for the opportunity to participate in the sharing of ideas. 
AM: The presentation you delivered was on "Packaging Progress." What would you say was/were the key takeaway(s) from your summit session? What do you hope the audience took from it?
RR: Consumers are seeking packaging that avoids excess. TricorBraun is working with brands to develop stock and custom solutions that will meet the brand's corporate strategy for sustainable packaging.  There are many ways to achieve sustainable packaging solutions and TricorBraun has the depth and breadth of knowledge in packaging to support brands' sustainable goals—wherever they may be in their sustainable journey—as well as help brands tell their sustainable story. 
AM: What role do you feel packaging has to play in the current market as the modern consumer becomes more and more eco-conscious?
RR: Packaging's first role is to protect and preserve the product. Regardless of the materials used, a package that fails to protect and preserve the product fails the consumer. The package is disposed of sooner; it may not make it to the customer in shipping, or the package arrives but it is so damaged that the consumer is unable to use it—making it the least sustainable solution ever.
Once you've identified your primary packaging goals, then it's time to consider how to address these goals with sustainable solutions. The choices you make, from designing refillable packaging to incorporating recycled content to designing lighter weight solutions can help tell brands' sustainability story to consumer—and serves as a reflection of their brand identity.
AM: What have been the greatest challenges in creating green packaging?
RR: The greatest challenge with green packaging has been the supply stream. We are seeing a demand on green solutions like PCR and other biologically derived resins. Often times these demands are exceeding the supply. 
AM: What should brands be aware of when purchasing or processing green packaging?
RR: Brands should understand green packaging may not be as consistent in supply, quality and may have pricing fluctuations due to the ever-changing market demands. It's important to have a packaging partner with the expertise to: guide you through the process, address potential challenges and minimize impacts on service, while helping you meet your sustainable goals.
AM: Do you feel as though you were able to reach an audience and achieve goals that you would not have otherwise been able to by participating in the NOHBA summit?
RR: This was TricorBraun's first year participating in NOHBA and we look forward to being invited back again next year!  It's opened doors to collaborate with professionals from leading natural product brands. By sharing of ideas, we can collectively arrive at solutions that will support our sustainable goals and protect our environment.