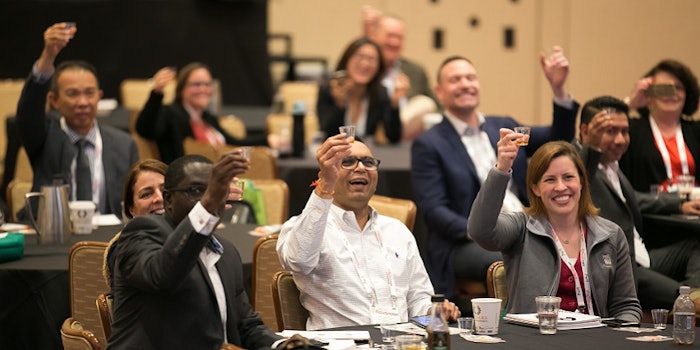 *Editor's note: This Flavorcon preview reflects the conference schedule as of May 2, 2019. Sign up for the Flavorcon newsletter at www.Flavorcon.com for the latest program updates.
Despite the numerous challenges and obstacles facing the flavor business; volatile prices, authentication issues and an ever-changing consumer (to name a few), the industry itself is healthy and growing. According to a Markets and Markets reporta, the food flavors market, which include beverages, is expected to reach $17.10 billion by 2023, growing at a CAGR of 4.8% between 2018-2023. Consumers continue to demand more natural tastes and ingredients that align with their values surrounding wellness, convenience and sustainability. With this growth in mind, the flavor industry will gather on Nov. 11-12, 2019, in Cincinnati, Ohio to explore the future of flavor and how to create value moving into 2020.
Presented by Perfumer & Flavorist magazine, Flavorcon is a global, interactive conference and expo designed for flavorists, scientists, product developers and consumer packaged goods companies in the flavor creation and food and beverage industries. During the two-day event, flavor professionals and product developers will hear from leading voices in the industry about the ingredients, markets and trends that are impacting the flavor industry. Speakers from across the supply chain will present their insight and unique solutions to pressing issues facing flavor and food development today. In addition to a robust conference speaker schedule, the event will feature an expo hall with over 40 flavor exhibitors, each showing the latest innovative ingredients and services. Returning for its second year, the Flavorcon Innovation Stage will bring bite-size educational sessions on a range of topics related to the main themes and topics of the conference.
Deniz Ataman, conference director, Flavorcon, said, "The flavor, food and beverage industries are constantly evolving, and we've designed each event to reflect key issues driving business. With the help of our esteemed advisors, this year's program will address hot topics like alternative proteins and dairy, cannabis and clean label, among others, through educational presentations and the first-ever, masterclass sessions.
The flavor industry is built on personal and professional relationships, and Flavorcon is an ideal event to facilitate these interactions through education, networking events and the bustling expo hall. We're looking forward to bringing the industry together again this year."
Capturing the Clean and Natural Consumer
Kicking off the conversation on consumer demands and trends, Dave Pirazzini, senior manager of innovation for REBBL, will discuss how to keep pace with the busy product landscape and deliver great, clean-tasting products. During his keynote presentation, he will share his experience with REBBL and how the brand innovates using clean product development principles. Additionally, he will demonstrate the importance of a brand's mission, value and ethics in delivering products that resonate with consumers.
Directly following this presentation, the conversation will turn to how the flavor industry can fully utilize the value behind naturals. Steve Pringle, VP global mint & Sensates group for Takasago International Corp will explore how sustainable and renewable areas can create value for the flavor and food industries. As consumers look for products that resonate with their ethics, Pringle will examine how the two industries can fully capitalize on the natural movement and authentically engage consumers.
While most of the clean and natural flavor focus has been on the food and beverage industries, health care products have also embraced the natural trend. On the topic of health care flavors, Kavin Morgan, global health care flavor section head for Procter & Gamble, will present on the challenges and opportunities of creating flavors for health care and oral care applications. During his presentation, he will outline ways to address bitter base ingredients and how to utilize flavor materials to create irresistible taste experiences.
Another area that is often not seen for its healthy or clean attributes is the confectionery segment, which is now finding innovative ways to embrace "better-for-you" trends. On day two of Flavorcon, Maria Bast, senior marketing director for Perfetti Van Melle, and Matthew Beam, director of R&D for Perfetti Van Melle, will share the challenges of incorporating better-for-you trends into confectionery brands. The duo will discuss their strategy in incorporating clean and natural attributes for the Airhead candy brand and how to engage a loyal consumer base through reformulation.
As consumers increasingly look for products that appeal to all their senses, the scent behind a flavor or product has become more important and a consumer driver in itself. During her masterclass session on day two, Marie Wright, VP and chief global flavorist for ADM, will examine products that are flavored with fragrance notes and why consumers gravitate to them as an angle to understand flavor creation in more depth.
Non-dairy, Non-meat Flavors 2.0
Within the natural and better-for-you trend, one of the largest growth areas is the alternative protein and dairy markets. To start the conversation on this segment, Praveen Upreti, corporate R&D cheese advisor: dairy specialist for Nestle, will discuss how to create flavors for alternative dairy cheeses on day one of Flavorcon. During his presentation, he will compare traditional dairy cheeses and alternative dairy cheeses and how flavors can address the taste gap.
Continuing the conversation on creating flavors for plant-based products, Sudarshan Nadathur, chief global dairy flavorist for ADM nutrition, will discuss the flavor challenges and opportunities in creating flavors for plant proteins. During his masterclass presentation, Nadathur will examine how to address off-flavors, flavor loss and product functionality in protein products. Additionally, he will discuss how to counteract off-flavors with maskers, which can ultimately enhance the product's taste and consumer appeal. Samples will be used to convey the topics discussed in the session.
From Fermented Dining to Fine Wine
While non-dairy and clean tastes have revolutionized the flavor and food industries, many classic tastes from fermented flavors to alcoholic beverages are still popular.
Elizabeth McCall, assistant master blender, Woodford Reserve, will discuss how Woodford Reserve develops the over 200 flavors in its profile as closing keynote on day one. Her presentation, "Exploring the Flavors of Woodford Reserve Bourbon," will explore the unique flavors created throughout the distillery's production process, along with a food pairing exercise.
To discuss the world of wine, renowned flavorist John Wright will host a masterclass on wine and flavor. During this workshop session, he will examine how location, the grape and the winemaker, among others, influence the complex flavor profile of wine. Additionally, Wright will examine the specific chemicals present in wines and explore how the segment has changed over the past 50 years.
Moving from the wine glass to the dinner plate, the presentation directly following Wright's will discuss fermentation in fine dining. In "A Conversation on the Creation of Flavor," David Zilber, director of fermentation of Restaurant Noma, and Jeff Gordinier, food and drinks editor for Esquire, will share their insight into fermentation and fine dining. The conversation will discuss the development of new tastes via fermentation through the fine dining lens.
Despite being relatively new to the food and flavor markets, cannabis and CBD flavors might be the new normal for many consumers looking for products with wellness attributes. During "The Cannabis Conundrum: To Chase or Erase," a panel comprised of Jennifer Corso; lead scientist of research and development for Banyan Scientific and Darwin Brands, Tony Moore; chief innovation officer and chief flavorist for Flavor Producers, Jon Fernandez; senior VP and co-founder of Altus Labs, and Sean Arnold, senior VP of production and product development for Altus Made, will discuss the nuances of the cannabis market. Discussion points will surround the duplication of aromatic flavor profiles of specific strains/blends, masking cannabis aromas and flavors and more.
Capping off the two-day event, Flavorcon will finish by toasting craft beer flavors. During "Crafting New Flavors in Beer Using Traditional Ingredients," Travis Houston, sensory specialist at Rhinegeist Brewery, will discuss the history of brewing and the emergence of craft beer flavors in the United States. Houston will explore the centuries-old technique of brewing and how it can create an array of flavors through four ingredients: water, malt, hops and yeast.
Fresh Innovation Takes Center Stage
The main conference isn't the only place for flavor insight. Returning to Flavorcon, the Innovation Stage will present bite-size insight and education on the tradeshow floor. Topics will surround everything from natural flavor innovation to popular flavor ingredients.
During "Taste Difference of Regionally Specific Mint Oils," Richard Pisano, Jr., president of Citrus and Allied Essences Ltd., will discuss the distinct taste and analytical difference of peppermint oils from two different sources. In his presentation, he will examine Mentha piperita oil from the Yakima Valley in Washington State and Mentha piperita oil from the Willamette Valley in Oregon and compare its qualities.
Moving from flavors to the flavorist, the focus of the first presentation on day two will examine the next generation of flavor leaders. Bryn Thomas, application technologist for Givaudan, will discuss how the F&F industry can create educational opportunities and welcome students and new graduates into the business.
Switching to the latest in natural innovation, the next presentation will take a global look at flavor development. Tao Feng, professor at Shanghai Institute of Technology and researcher at Shanghai Flavor Research Institute, will discuss creating clean-label flavors for China. During his presentation, he will discuss the preparation and application of a number of key Chinese ingredients, including Xinjiang pomegranate, Zhejiang finger citron, Yunnan black truffle and Jiangxi and Chongqing citrus.
To discuss the obstacles facing flavors for plant-based products, Nadji Rekhif, senior flavor specialist for Nestle Development Center, will share his insight. During his presentation, Rekhif will address the two biggest challenges in plant proteins: off-flavors and the interaction between flavors and protein.
See you in Cincinnati!
Registration is now open! Visit www.Flavorcon.com to register and sign up for the mailing list to stay up to date on the latest event news.
Interested in booking a booth? Space is limited. Contact Paige Crist, pcrist@allured.com, to find out more.
Footnotes:
* Photos courtesy of Peter Wynn Thompson
a https://www.marketsandmarkets.com/PressReleases/food-flavors.asp