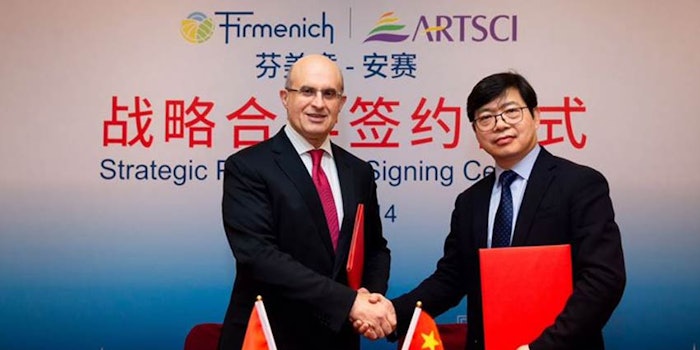 Firmenich has announced a strategic partnership with ArtSci Biology Technologies (Hangzhou) Co., Ltd (ArtSci), taking a minority equity stake in the Chinese flavor company and building on its distributor agreement.
The investment will further expand the Swiss company's reach across central and western China's middle market; its presence in the country includes its Zhangjiagang manufacturing plant (its largest in the world), facilities in Shanghai and Kunming serving its perfumery and ingredients businesses and a research center in Shanghai. In 2018, it entered a strategic partnership with Layn Natural Ingredients based in Guangxi, for exclusive access to the industry's widest range of natural sweeteners, such as monk fruit and stevia.
"Firmenich has great ambitions in China, as evidenced by our recent strategic investments," said Firmenich CEO Gilbert Ghostine. "I am delighted about our reinforced partnership with ArtSci, building on our successful distributor agreement, as it opens new avenues of growth across Central and Western China for both of us."
Headquartered in Hangzhou, Zhejiang province, ArtSci specializes in dairy and beverages.
"We are delighted to be partnering with Firmenich, a world leader in taste with world-class technologies and innovation," said Wang Ying, chairman of ArtSci. "With our strategic partnership, we can offer a broader portfolio of solutions and strengthened capabilities to our customers across China to best meet their needs today and in the future."