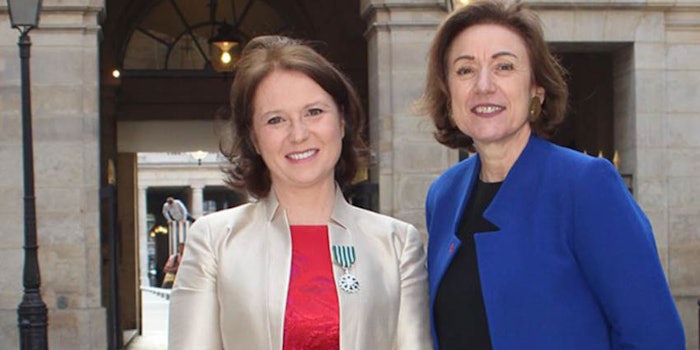 Calice Becker, vice president, perfumer and director of the Givaudan Perfumery School has received the French médaille de Chevalier dans l'ordre des Arts et des Lettres for her contribution to the arts through perfumery.
The honor was presented in Paris by Sylviane Tarsot-Gillery, director of artistic creation at the Ministry of Culture for the French government.
Becker, who began her perfumery training at Roure in Grass in 1985, has been with Givaudan for nearly 40 years. Appointed to the role of director of the Givaudan Perfumery School in 2017—where she leads the training and development of future perfumery artists—Becker's list of creations includes J'Adore by Dior, Dylan Blue by Versace and Tommy Girl by Tommy Hilfiger.
She is the second Givaudan Perfumer to receive the distinction, after Daniela Andrier, vice president perfumer, in 2012.
Related: The Juice: Calice Becker
"I am truly honored and gratified to receive this honor from the French Ministry of Culture," said Becker. "I feel privileged to join the small group of perfumers who have been recognized and I am especially pleased of the recognition it brings to celebrating the heritage of perfumery today."
Maurizio Volpi, president of Givaudan's fragrance division added: "Calice's passion for perfume creation and dedication to training young perfumers is an inspiration to all of us at Givaudan.  This honor celebrates her remarkable career in perfumery and her leadership in the industry.  We congratulate her for this magnificent, highly deserved achievement."