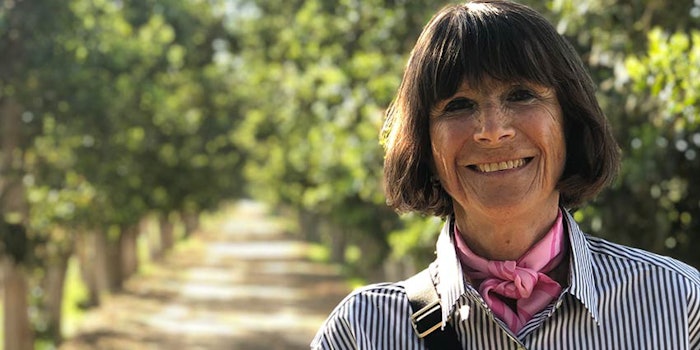 Fragrance Creators Association (FCA) has named Laure Moutet Manheimer recipient of the 2019 Eric Bruell Distinguished Service Award.
Moutet Manheimer has served as owner and president of JPM Imports Inc.; vice president of sales at J. Manheimer Inc.; and at Kerry Ingredients & Flavor over a career spanning four decades. She was the first woman to serve on the board of directors for Fragrance Materials Association (predecessor of FCA) and, to date, is the only woman to receive the association's Lifetime Achievement Award.
She is a board and founding member of the European Federation of Essential Oils, and was the first recipient of the Women in Flavor and Fragrance Commerce Woman of the Year Award.
While accepting the award at the association's annual spring dinner at Westmount Country Club in Woodland Park, New Jersey, Moutet Manheimer commented:
To the board of directors, Farah, thank you so much for choosing me to receive this award. You don't know how much it means to me. To me, Eric Bruell was a figure bigger than life when I started working. He was also one of the people that was generous of his advice and support when my father died. This is the man he was. And here I am, Eric, the proud recipient of the award set up in your honor.
She noted that Bloomberg's Global Equality Index, which measures how close member states are to gender equality, was a good start to addressing the issue of the lack of women in leadership roles.
The fact that there is a concerted effort by large companies and government (at least in Europe) to increase the number of women in leadership positions may bring a solution. When enough women are up there, they may be able to bring the necessary changes. They will find a way where both top management and family life are more compatible. This will be a blessing for women and men alike. And it is also good for companies as well: statistics already show they are doing better with greater diversity in their upper management. So, ladies in upper management, the future path to success is in your hand.
"Laure is a fabulous industry trailblazer," said Farah K. Ahmed, president & CEO, Fragrance Creators Association. "She has worked with unending passion and charisma to promote and protect fragrance and its ability to uplift lives."
"Laure is one of our industry's most beloved leaders," added Robert Weinstein, Ph.D., chairman of the Fragrance Creators board of directors and president and CEO of Robertet USA. "I admire her many achievements, especially her championing of young professionals to ensure the future of our industry is in good hands."