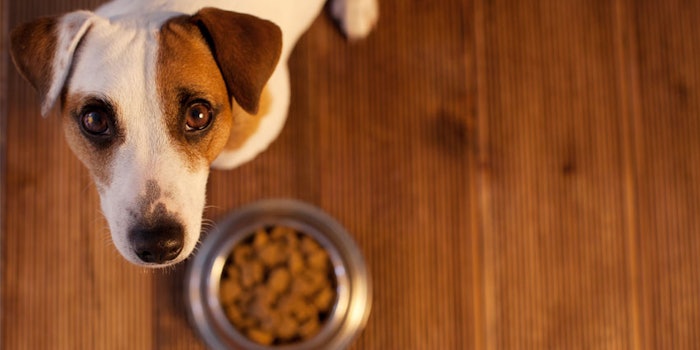 Author Rick Woodford has recently released a pet-friendly cookbook, Feed Your Best Friend Better, Revised Edition (Andrews McMeel Publishing, December 2021). The cookbook offers helpful insight, charts, tips and over 100 easy recipes for healthy dishes.
Related: Scientists Use "Smell of Fear" To Fight Pests Instead of Pesticides
But what is it that motivates a dog to dive into the food bowl, scent or flavor? According to Rick Woodford, you can tell by when a dog politely declines an offering.
"Dogs dive into the bowl nose with an olfactory sense that is literally a million times stronger than humans. And most dogs give their food a quick whiff before they tuck into their meal," reports Woodford.
The following is penned by Woodford on the nuances of flavoring pet food:
Humans edge out dogs with our sense of taste with six times the amount of taste buds. Dogs can detect the same tastes as humans, just with less intensity.
In the tenth anniversary edition of Feed Your Best Friend Better, there have been twenty additional recipes added alongside updated content with a focus on providing the scent and taste that dogs love the most–meat.
Woodford's primary reason for writing and updating his cookbook was to assist dogs with serious ailments and to help dog lovers boost the nutrition in the dog bowl. "Often dogs with kidney disease or heart disease just don't feel like eating. My recipes lure them back to the bowl with additions of a little bit of chicken liver or sardines." One of his new recipes is called "The Chicken Liver Cheat" which is made of easily dehydrated livers that are then powdered in a food processor or blender. "A tiny pinch of this sprinkled over dog food may not seem like much but a dog's nose is going to pick it up a foot away," says Woodford.
As dogs age, their sense of smell starts to wane and their joints start to ache, so Woodford recommends adding oily fish like sardines, mackerel or salmon alongside some healthy vegetables with his Meal Topper recipes that have been added to the revised edition.
"Dogs will still know the vegetables are in there but gobble the vegetables up because they're driven by the scent of the fish." Woodford continues, "The vegetables are going to add phytochemicals and antioxidants from fresh foods and the fish helps to reduce inflammation in older joints."
Boredom with the same meal day after day is another reason that can make a dog less enthusiastic about mealtime so Woodford recommends sharing foods "off your cutting board, not your dinner plate" to keep things interesting and provide a nutritional boost in a section called "Foods to Share" that lists dozens of foods that are easy to add. Each food, like every meal and treat recipe in his book, provides serving sizes for dogs 10, 20, 40, 60 and 80 pounds to help users know how much to add without adding extra weight.
"A variety of foods in your dog's bowl certainly adds nutrition, but it all starts with your dog giving it a sniff before diving in."
Want to know everything going on in flavor & fragrance? Sign up for P&F+'s newsletter. You can also follow along on Instagram and LinkedIn.