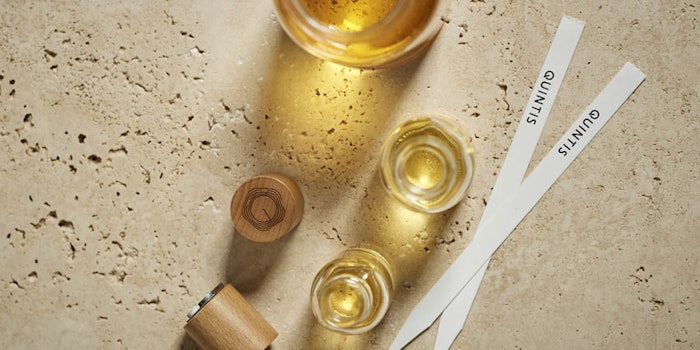 Quintis Sandalwood, in partnership with the American Society of Perfumers, has launched a global competition for perfumers of all experience levels to reimagine the ancient botanical of Indian sandalwood (Santalum album) within a fragrance.
Here's how the competition works:
Perfumers will need to create an Eau de Toilette supplied as a base, featuring a minimum of 1% Quintis plantation-grown Indian Sandalwood oil. Along with the perfume creation, all entries need to be accompanied by a Statement of Creative Intent, providing an outline of the nature and ingredients of the base formulated.
An independent panel of fragrance masters chosen by the American Society of Perfumers, who have collectively worked with major fragrance companies like Givaudan, Firmenich, IFF, Mane, Symrise and Takasago, and have created fragrances for iconic brands like Estée Lauder, Ralph Lauren, Coty, DKNY and Maesa, will decide the top 10 finalists by evaluating blind, judging creations on blotters and skin.
The winners will be announced at the World Perfumery Congress in Miami in 2022.
Entrants must register during the Registration Period, from October 28, opening 12:00 am EDT, to November 25, 2021, and entries must be received by March 31, 2022. To register, visit www.quintis.com.au/q-lab.
Perfumer & Flavorist+ connected with Danae Christensen, Quintis marketing innovation manager to get more details on the competition.
DC: The past two years have been a challenging time for everyone within the industry. We wanted to create a collegial experience for perfumers, but more importantly, an opportunity to create, compete and play.
At Quintis Sandalwood, Indian sandalwood serves as our daily inspiration. With a vast sustainable supply of Indian sandalwood in Australia, Quintis owns and manages one of the largest estates of Indian sandalwood in the world with 5.5 million trees on 12,000 hectares.
We worked closely with the American Society of Perfumers to develop the fragrance competition to make sure that it would appeal to perfumers of all experience levels. We wanted something that captured the spirit of energetic resurgence – like what we can see in the use of Indian sandalwood in fragrances – so we landed on the idea of Reimagining Sandalwood as the theme.
To make sure that perfumers could really showcase their creativity, we wanted to give perfumers the freedom to create and play removing the normal parameters of a commercial fragrance brief like consumer profile and budget, instead encouraging participants to use Indian sandalwood as their muse. We feel that this will allow perfumers greater creative freedom to reimagine the future of this precious botanical.
P&F+: What could winning the competition mean for aspiring perfumers?
DC: Perfumers who enter have the opportunity to be recognized as a world leader in fragrance creation, with finalists announced at SIMPPAR and the winners announced at the World Perfumery Congress in July 2022. For an aspiring perfumer, winning the Emerging Talent award at World Perfumery Congress could be life-changing. They will be recognized by their peers for their talent and creativity, which could bode well for their future careers.
P&F+: Could you please touch on the history of Indian sandalwood oil and how it has returned to the fragrance industry?
DC: The history of Indian sandalwood has seen some troublesome times, with illegal trading and overharvesting making the ingredient scarce in the 1990s to early 2000s, and leading to it being listed as a vulnerable species in 1998 by the International Union for Conservation (IUCN).
In the early 21st century as the global shortage of Indian sandalwood reached a crisis level, almost all fragrances relied solely on synthetic sandalwood substitutes or native Australian sandalwood to achieve the note.
It is only recently since a sustainable resource of Indian sandalwood has been established in Australia, through companies like Quintis, that creativity with Indian sandalwood oil in fragrances is again flourishing.
With many brands leaning on nostalgic references during the pandemic, the incomparable warmth and rich, creamy wood scent of Indian sandalwood - an ingredient deeply interwoven with culture and history - has seen this ancient, natural ingredient continue its resurgence in the fragrance industry.
P&F+: Any advice for aspiring perfumers?
DC: Our independent judges' value technique, craftsmanship, and the ability to transform artistic ideas into masterful fragrances, so they will be looking for submissions that demonstrate these skills along with a unique expression of sandalwood.
We are also looking for entries that are sustainable – just like Quintis's Indian sandalwood – so we encourage perfumers to be mindful of the ingredients that they use. But beyond that, we want to share a joyful experience with perfumers – this is an opportunity to create, play and enjoy this material and process.
P&F+: From your perspective, what does the future of fragrance look like?
DC: The cosmetics 'clean beauty' trend has really heightened awareness of ingredients generally. I think we'll see more consumers pushing for transparency around ingredients even in fragrances, as they seek to better understand the ethical, ecological and safety of ingredients they use. In addition, I think consumers will look at scent more holistically, not only as a way to reflect their identity, but as a means to lift their mood or enhance their performance.