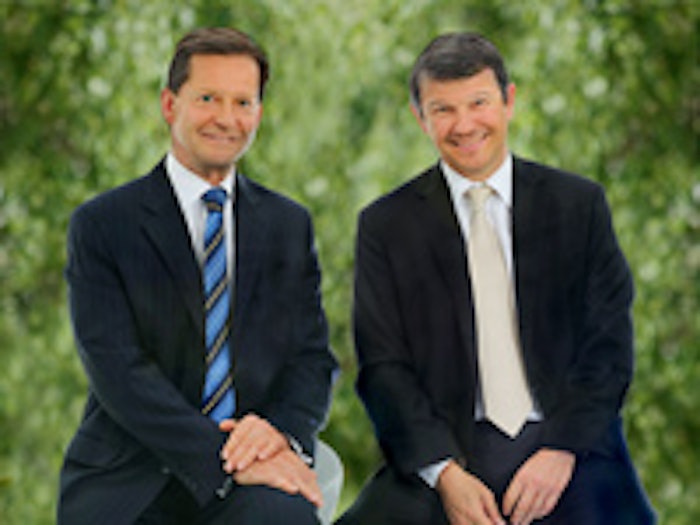 Firmenich reported financial results for its fiscal year ended June 30, 2011, noting sales growth in all regions and segments, with emerging markets such as China and Asia-Pacific in the lead, followed by Western Europe, North America, Latin America and the Middle East. The company reported a 5.8% sales increase in local currencies, but a 3.9% decline in Swiss francs, coming in at CHF2,781.6 million.
The company's perfumery division posted robust single-digit sales increases in local currencies. Fine fragrance achieved double-digit sales growth in fiscal year 2011, through the introduction of new launches from brands and strong performance from classic fragrances. Body and home care also posted sales increases, achieving solid growth, and sales progress was particularly strong in the laundry care category, as breakthrough innovations drove newness in fabric conditioners. Consumers also responded positively to new fragrance variants and product forms offered by air freshener brands. Additionally, outstanding performances were achieved at prestige specialty retail, in particular with body and skin care products, followed by robust sales of mass body perfume, deodorants and new hair care brands. Geographically, Western Europe posted the strongest growth, driven by fine fragrances and the positive momentum of sales to retail brands, followed by Asia-Pacific and China, each recording healthy sales in the home care category. Latin America posted robust sales gains in fine fragrances while in North America, healthy single-digit sales growth was achieved in comparison to strong prior year performance, followed by the emerging markets of Eastern Europe, the Middle East and Africa.
Flavor sales posted high single-digit local currency growth with increases across all segments, as Firmenich broadened and deepened its market penetration in key emerging markets. Beverages posted the strongest growth, fueled by new product launches in various business segments. Sweet goods followed, recording a robust sales performance achieved through innovation on classic tonalities that consumers love most, including vanilla, peppermint and citrus. In savory foods, sales growth was achieved across the categories of soups, sauces, snack foods and proteins. Geographically, growth was led by emerging markets. In particular, Southeast Asia, China and the Middle East all posted double-digit sales gains, followed by a strong single-digit performance in Latin America. In the developed markets, North America recorded very healthy growth followed by more modest sales in Europe and Japan. During the year, Firmenich also created a new commercial zone fully dedicated to the emerging markets of India, the Middle East and Africa, allowing the company to focus on broadening its knowledge of these cultures, deepening consumer understanding and on strengthening service in these regions.
Ingredients sales posted a single-digit sales increase in local currencies, achieving growth in the synthetic and natural segments for fiscal year 2011. In perfume ingredients, the company recorded significant growth as fine fragrance sales grew throughout the year, increasing sales of Firmenich's specialty and natural ingredients. In flavor ingredients, an increased demand for authenticity flavors drove strong sales gains. During the second half of the year, the global ingredients market continued to face strong competition, in particular from emerging markets. Throughout the year, the company also launched its "Sharing Innovation" promotion to its global perfumery and flavor clients, showcasing a combination of differentiated signature products. At the same time, Firmenich also continued investing in new methods of producing existing materials at more competitive costs.
Additionally in fiscal 2011, Firmenich began the commercialization of its collection of specialty flavor ingredients, which are produced according to specific natural processes for flavor applications. The palette introduced a broad spectrum of tonalities, ranging from fresh green notes to more exotic, creamy coconut flavors. For the company's perfumery clients, the launch of the "Sharing Innovation" promotion dedicated its focus to the market introduction of five new ingredients, including a spicy coumarin note with a creamy touch, a high-performing woody amber note and a blooming white floral. Also, the company's new perfumery ingredient production plant in Gujarat province, India, became fully operational, as all the necessary process steps were taken to ensure the company's ability to respond to the growing demand from the global perfumery market, and in May 2011, Firmenich officially inaugurated its Naturals Innovation Center in Grasse, France.
Firmenich also filed 36 new patent applications for new ingredients, processes and delivery systems. It also continued to invest 10% of its annual turnover into innovation. Remaining focused on building its leadership in flavor and fragrance ingredients, the company deepened its partnerships with universities and with scientific organizations worldwide, as well as formed several new strategic collaborations with companies to accelerate its innovation pipeline.
The year was marked by the launch of Firmenich's new five-year plan, Embrace 2015, which outlines the company's ambitious targets and goals for growth under three core pillars: Think Client, Be Different and Remain True. Within the context of a rapidly developing global economy, Firmenich aims to achieve its strategy through strong leadership and the creativity of its employees.
This year also marked the first year of Firmenich's 2015 sustainability objectives, which aimed at improving the safety of its employees, its environmental footprint and establishing innovative global business partnerships to maintain the compnay's position as thought leaders in the industry. The company gained twelve new third-party certifications in safety, quality and environmental management. Also, for the sixth consecutive year, Firmenich improved its safety performance with an overall improvement of 37% in employee safety over prior year. Throughout the year, the company received several special recognition awards in acknowledgment of its sustainability initiatives. Additionally, it was recognized by several sustainability experts, including the Clinton Global Initiative. And in May 2011, Firmenich received the "Responsible Business Award" from Ethical Corporation in recognition of its commitment to corporate social responsibility and the positive impact of its projects on business, society and the environment. In June, retired Firmenich chairman Fred-Henri Firmenich received the Marcos J. Bertin Quality in Governance Medal from the International Academy of Quality.
For more on Firmenich's annual report and its 2011 sustainability report, visit Firmenich's website.